How to Invest in Startups in India Online
India is growing quickly and has one of the youngest populations in the world. India is a good place to invest in new businesses because of this since the country will continue to grow. 
Indian businesspeople are also known for being creative and innovative. In the past few decades, Indian entrepreneurs have started many successful businesses around the world. 
Investors with big names have put record amounts of money into the Indian market over the years. Investors are now focusing attention on early-stage startups, indicating greater market confidence. 
You must be wondering how to invest in startups in India online. The digital revolution has made it easier to raise money or invest with the help of online platforms. Nowadays, regular people can invest online in startups.  
Do you want to invest in such businesses? Let's examine the many internet funding options for businesses.
What is a Startup?
A startup is, to put it simply, a firm that is just starting. Entrepreneurs discover it when they intend to produce a good or service based on market needs. The majority of startups need funding to get off the ground.
Friends and family, loans, or crowdfunding are some of the financing sources. The founders may also enjoy venture capitalists' help with venture capital.
Why Do Startups Need Funding?
Startups need funds to grow and dominate the market quickly. There is often no other option for them except to seek outside funding. Funding provides a solid foundation for the expansion and growth of business initiatives.
The following are some ways startups raise money:
Seed Investment (Friends & Family)
Finding an Angel Investor
Crowdfunding
Applying for Loans under Government Schemes
Get loans from public and private banks
Small business loans from NBFCs and MFIs
How to Invest in Startups in India Online
Earlier, only the wealthy and those with extensive professional networks had the option of investing in startups. This is no longer the situation. An investor may now quickly contribute to a startup via internet channels. Even though investing in startups is easier than ever, knowing how to invest in startups in India online is crucial. So, here is the answer:
There are a few online platforms in India that allow you to invest in startups.
Some popular platforms are LetsVenture, Tyke, and AngelList India.
You can find out about which startups to invest in by reading articles about them or going to events about them.
It is important to do your own due diligence before investing in a startup.
Know the startup's business concept, team, and market size.
You should also look at the terms and conditions of the platform you're using to make investments.
Always consult a financial advisor if you're not sure how to go about investing in startups. 
Top Startup Investing Platforms in India
India is now one of the world's most rapidly developing nations. India's ecosystem is growing the fastest because a lot of startups have started up in the last year. There are currently more than 39,000 startups in India. India has 44 unicorn enterprises in 2021, surpassing the UK's third-highest position. [1]
Over 23 billion dollars have been raised by Indian startups in 2021 alone, spread across 1,000+ deals. There have been 13 more unicorn startups added to the club in 2022. [2] Guess what, now you too can invest in Startups comfortably from your home.
Minimum amounts, earnings, and net worth are a few examples of startup platform terms and conditions. It is important to note that every platform has its own guidelines.
Here are a few platforms for startup funding in India: 
Tyke
One of the most well-liked investment sites is Tyke, which allows you to invest as little as INR 5000 in a venture. You can fund startups in health and education, fintech, blockchain, AI, and more. Tyke's investing approach is called T-Safe. 
An investment agreement known as a T-SAFE is made between funders and startups intending to raise capital. People invest to profit if the business is bought, goes public, or raises financing in the form of shares or cash.
The T-SAFE is a changed version of the SAFE. The SAFE is a financial tool made by Y Combinator that is often used by angel investors and venture capitalists who invest in startups around the world.  It is used in different ways by some of the biggest names in business, and it was made to work for investment projects with hundreds or thousands of investors.
Pros
One document provides security, reducing the need for many documents or formalities.
Investor interests are always safeguarded under the T-SAFE agreement.
With as little as 5000 rupees, you can invest in a business. .
It gives private equity funds to users who are accepted, but they don't have to do the work of a company equity holder.
Cons
TykeInvest is not a licensed broker-dealer or investment advisor.
There is no physical location or phone number listed for TykeInvest.
There isn't a demo account available.
LetsVenture
A significant startup investment platform is LetsVenture. The initial beta version of LetsVenture was released in 2013. Shanti Mohan is the founder and CEO of LetsVenture. It serves as a platform to connect business owners with knowledgeable investors. The streamlined fundraising procedure benefits investors and enterprises. 
More than 300 entrepreneurs have raised $200 million for their businesses through LetsVenture. Twenty-eight active syndicates, 6500 approved investors, micro-funds, and family offices raised these funds.
Pros
LetsVenture is a platform that connects investors and business owners.
You can choose Startups to Invest in by Industry and Location.
It has a very low entry fee making it accessible to retail investors like you and me.
Cons
They don't have an active community for Investors to connect and exchange Investing ideas.
AngelList India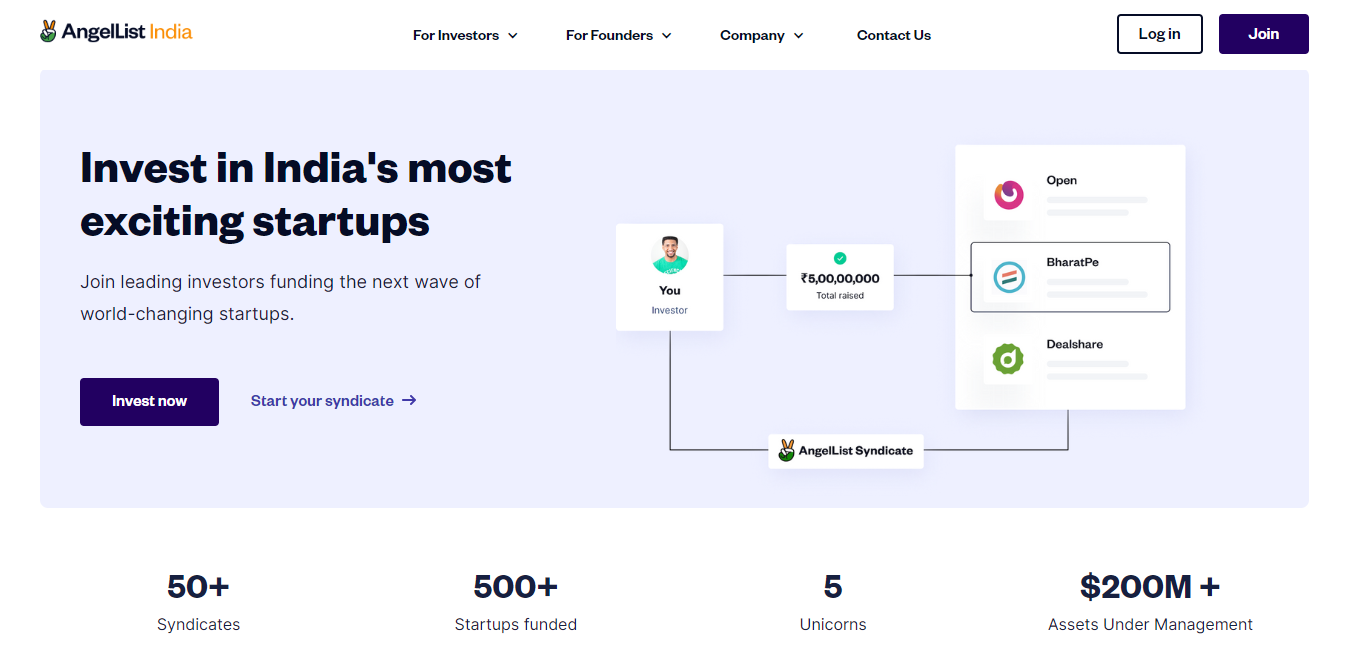 AngelList is just another fantastic platform for bringing together businesses and investors. In 2010, Babak Nivi and Naval Ravikant founded the company. The two founders came up with this idea after making a list of 25 investors with whom they could share good investment ideas. This list was given the moniker "AngelList." Over 400 firms have received funding from AngelList totaling over $2 billion. One must be an eligible angel investor to invest here.
Pros
Locating potential businesses to invest in is made simpler for investors. It makes it possible for business owners to get venture capital funds faster than in the past.
Gives access to Indian companies to investors from throughout the world.
Cons
Some people aren't happy with the site's startup ideas, which could be because the site is still new or because not enough people are using it.
Sateeq
With as little as 5000 INR, you can start investing in companies through Sateeq. Krishna Maggo, a 16-year-old boy from Delhi, started Sateeq in 2021. He wanted to open up angel investment to all Indians so that people could invest in businesses in a safe, secure, and well-informed way.
The platform helps entrepreneurs, angel networks, and angel syndicates set up the infrastructure they need to handle their private deals and some venture capital funds from confident investors. Sateeq uses an invitation-only strategy to onboard new entrepreneurs. The ten-person Krishna team verifies a startup in three steps before registering it.
Investors who are part of Sateeq look for and carefully check out startups before deciding if they are worth investing in. The last step is to hire a company from the outside to finish a startup's due diligence report. Startups using the platform talk to investors to seek community financing, like CCD and CSP debt financing.
Pros
You can gain first-hand knowledge of startups and benefit from the chance to advance alongside them.
You can join the founding team by joining an early group of founders.
Cons
It's a relatively new investment platform, founded in 2021.
Inflection Point Ventures
An early-stage angel investing platform called Inflection Point Ventures was established in 2018. The number of investors on the platform has grown from 100 to over 6,000, including CXOs, HNIs, and top specialists. One can start investing in businesses with IPV for as little as Rs. 2.5L.
IPV is one of the most active angel platforms, according to a Nasscom report on Indian tech startups.
Inflection Point Ventures is a platform for investing in early-stage startups. It gives entrepreneurs both financial and non-financial services and is completely open with its investors about value, due diligence findings, and personal interests.
Pros
Its investment strategy is open and transparent.
It focuses on motivated and competent entrepreneurs and is independent of industry.
Cons
Pitching your startup idea to many investors is preferable; but, it may take some time.
You can be obliged to return your investment if your startup fails.
Things to Keep in Mind Before Investing in a Startup
There are a hundred things to think about before investing in a business, but these are the primary ones that should always be on your list:
Idea
Most startup investments are based on a small number of tests of an idea. As a result, you must fully understand the concept and the business before investing your money.
Founders
Founders are the most important because investors don't have much external validation. Founders are in charge, and investors fund both the concept and the implementation.
Market Size
For a company to provide a decent return on investment, its market must be large enough to become well-known. "Startups" operate on a large scale because they want to be the best. Because of this, you should never choose a business that only serves a single town or a small area.
Competitors
In startups, the goal is to quickly scale up and take the lead position in the market. So, it's important to know who else is in the market so that the business you're thinking of investing in has good ways to deal with them.
Pros of Investing in Startups in India
Changemaker
Startup investors put their money into projects and businesses that could make the world a better place. As a result, it offers a perfect chance for people to contribute to improving the world.
High Reward Potential
Startup investments are often made while the business is young and has a lot of potentials to develop and succeed. As a result, your investment may increase enormously over time if you capture the proper bird early.
Side Hustle
An angel investor views startup investing as a side business he may use to generate cash flow. It's fun to research and invest in startups since there's always something new.
Cons of Investing in Startups in India
High Volatility
Money, founders, teams, investors, market conditions, competition, and more are unpredictable in the first two years of a corporation. Thus, investing is emotionally and financially risky.
Investing in High Risk
Because startup investments are made when the company is still young, the team and business plan may not be as reliable as in a mature company.
Long-Holding Periods
For a startup investment, the typical holding time is 7-8 years. As a result, it's a very risky investment that you shouldn't make if you need money right away for an emergency.
Conclusion
The Indian startup ecosystem is going through an exciting time, with deals and other things happening at a rate that has never been seen before. Analysts say that because the number of startups in India has reached a record high, now is the best time for investors to join profitable business projects. 
Many small investors now have a great chance to invest in the amazing Indian startup story and make money from it. But, just like with any other investment, you need to be smart about it and know everything about it.