Top 7 Best Stock brokers in India for Online Trading
Stock market returns, investment options, and liquidity attract investors. A competent stockbroker is essential for stock investment in India. Investing in stocks can be risky, so you need trading support. It is where the best stockbrokers in India play a vital role. 
Skilled and certified stock brokers are the most trustworthy stockbrokers. For a fee, they act as middlemen between people who want to buy or sell stocks. Keep in mind that the top stockbroker in India does not own the securities. They provide investors with their services at the lowest brokerage fees.
If you are new to investing, you should find out what services Indian stockbrokers offer. This article lists the best stock brokers in India, along with information on how to choose one.
What is a Stockbroker in India
A stockbroker purchases and sells securities on behalf of investors. Investors on exchanges trade stocks. An investor is unable to trade on stock exchanges. If you want to buy or sell stocks, you need a middleman to assist you in the transaction.
This middleman may be a person or business with the legal right to buy and sell your shares. This type of entity is known as a stockbroker. Stockbrokers can either work on their own or for a company. A broker charges a fee or a commission for this service.
Stockbrokers serve investors. A broker's job is to buy and sell shares on behalf of a client. Brokers also offer information that enables investors to make wise financial decisions.
Members of stock exchanges like the BSE, NSE, and MSC include share brokers. At the exchange, they handle consumer trades. Retail clients can trade stocks through one of India's many registered stockbrokers.
Stockbroker Services
Let's examine the services that a stockbroker offers to its customers.
Stockbrokers provide reliable advice on purchasing, selling, and trading stocks and other securities. Because they know how the markets work, they may tell clients when and what stocks to buy and trade. Before making such suggestions, they conduct research on securities.
Stockbrokers purchase and sell the shares and also oversee client documentation. A record keeper also maintains track of all transactions, invoices, and other information.
Stockbrokers oversee and change the investment portfolios of their clients. They also respond to any queries a client may have about investments.
A stockbroker discloses the potential stock market investment opportunity to clients.
A stockbroker helps clients change their investments based on the market.
Stockbrokers: What to Expect?
A stockbroker is a reliable companion on your path to financial success. When you have chosen a broker, make sure they can give you the following:
Customer-Focused Services
Brokers provide stock recommendations and tips. But do these meet your financial requirements? Seek user comments that address this. Investors and traders can check a broker's performance via reviews. Look at the broker's recent track record for success and failure. Compare brokerage and investment plans before selecting a broker. It could offer plans for beginners and experts.
Research and Educational Resources
A knowledgeable broker instructs clients on trading and investing. Verify if your broker provides reliable resources for the same. It should share the results of its internal research team. A broker must inform the investor of market changes and give choices. You may need market jargon and trading tactics guides if you're new to stocks. Make sure the broker offers learning tools appropriate for your level of investment.
Wider Investment Options
If you have to use many platforms for different types of trading, life may get rather busy. Yet not all brokers offer access to a wide range of asset classes. Discount brokers, for instance, might only work with equities and mutual funds. If you want to trade currencies and derivatives, you might need a full-service broker. Stockbrokers provide direct access to foreign stock markets, enabling global investment.
Factors to Consider While Choosing the Best Stock Broker in India
You can pick a stockbroker by bearing the following things in mind:
Selective Feedback
Do your friends and relatives invest in stocks? Ask them for their opinion. But everyone's feedback depends on how they see and manage their investments. Thus, disregard all advice.
Brokerage Charges
Every stockbroker imposes a commission. A large brokerage fee could reduce your profits from each trade. Discount stockbrokers might only offer a few services. Compare costs and services before selecting a broker. Read the small print and look for hidden fees before choosing your broker.
User Reviews
Look at user testimonials left by the stockbroker's prior clients before hiring them. Consider the advantages and disadvantages of each review and confirm the reviews' veracity.
Financial Products
Think about the variety of financial services the broker can offer. Bonds, stocks, and futures are only a few of the financial instruments that larger stockbrokers offer. Find out everything you can about India's best stockbrokers by looking at how they did in the past. There is no shortage of reliable information available online. Look through them and analyze the accomplishments of various stockbroking firms. Additionally, you can research stockbroker rankings based on their previous success.
Trading Platforms
Learn as much as you can about the broker's trading platform. You can find all the most recent trade news on a reputable trading platform. You can choose from various trading tools and a wide range of options. Additionally, you must be able to use your tablet or mobile phone to access the platform.
Top 7 Stock stockbrokers in India for Online Trading
This list of India's top stockbrokers includes full-service and discount brokers. Each of these stockbrokers provides the best Demat and trading account services. Let's get going.
Zerodha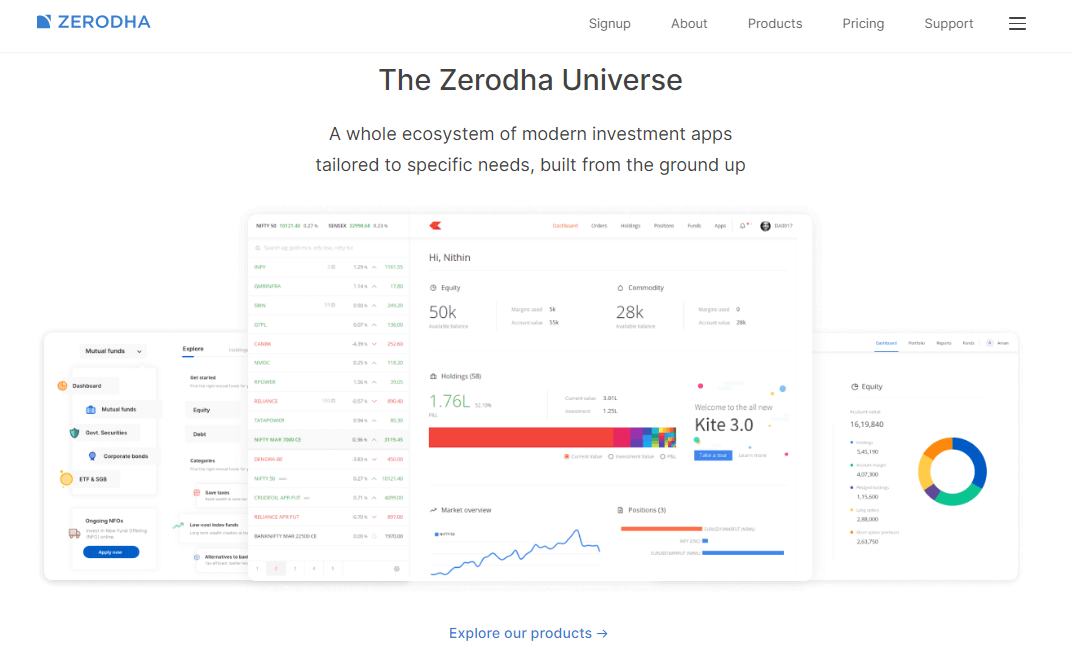 With over 6 million active clients, Zerodha is India's leading and most successful stockbroker. With a flat Rs. 20 per trade fee, Zerodha popularized discount brokerage in 2010. It isn't easy to compete with large competitors like HDFC and ICICI. Yet, Zerodha remains the country's leading bargain broker.
Zerodha is an Indian discount broker with a significant customer base. Zerodha provides trading platforms, tools, and education. Its highest brokerage per trade is Rs. 20. The main disadvantage of Zerodha is that they do not give research findings or advice.
Upstox
Upstox is another well-known name in the discount brokerage market. The best Indian stock broker provides cutting-edge trading tools as well as value-based guidance. Upstox is one of India's leading stockbrokers, particularly for traders. There is no brokerage fee for intraday trading in F&O and equities. You can trade commodities and currency derivatives for Rs. 20 per order.
Upstox is well-known for its sophisticated trading systems. According to reports, Upstox has spent significant funds on in-house trading. You can open a DEMAT account in one day. There is no need for paperwork. Users can begin trading immediately after simple Aadhaar verification.
Upstox is appropriate for long-term investors as well as high-frequency traders. It provides some of the most dependable and feature-rich trading platforms. Upstox's in-house trading systems provide it with a competitive advantage. The bargain broker Upstox is the second most popular. Upstox is a viable trading option with over 10 million active clients and a daily transaction of Rs. 15,000 crores.
Angel One
Angel One, launched in 1987, now has one million satisfied consumers. They are present in about 1800 Indian cities. It has been a full-service broker for over 20 years and charged a percentage fee. To compete with cheap brokers, they implemented flat prices in November 2019.
Angel One currently provides the 'Angel iTrade PRIME' flat-rate brokerage package. In this scenario, delivery trading is free. And for all other areas, such as intraday, F&O, currencies, and commodities, they charge a flat rate of Rs. 20 per transaction. The same basic charge applies to all exchanges and segments. Angel Broking gives advice and recommendations on the stock market. They also offer company research studies and other value-added tools and services.
Angel One is a reputable brokerage firm with many options and advantages. Furthermore, they give users flexibility. Their trading tools can be beneficial for trading strategies. Their prices appear to be competitive and in line with market trends. They provide amazing customer service and respond quickly to issues. Yet, they are not effective at dealing with crucial issues.
Fyers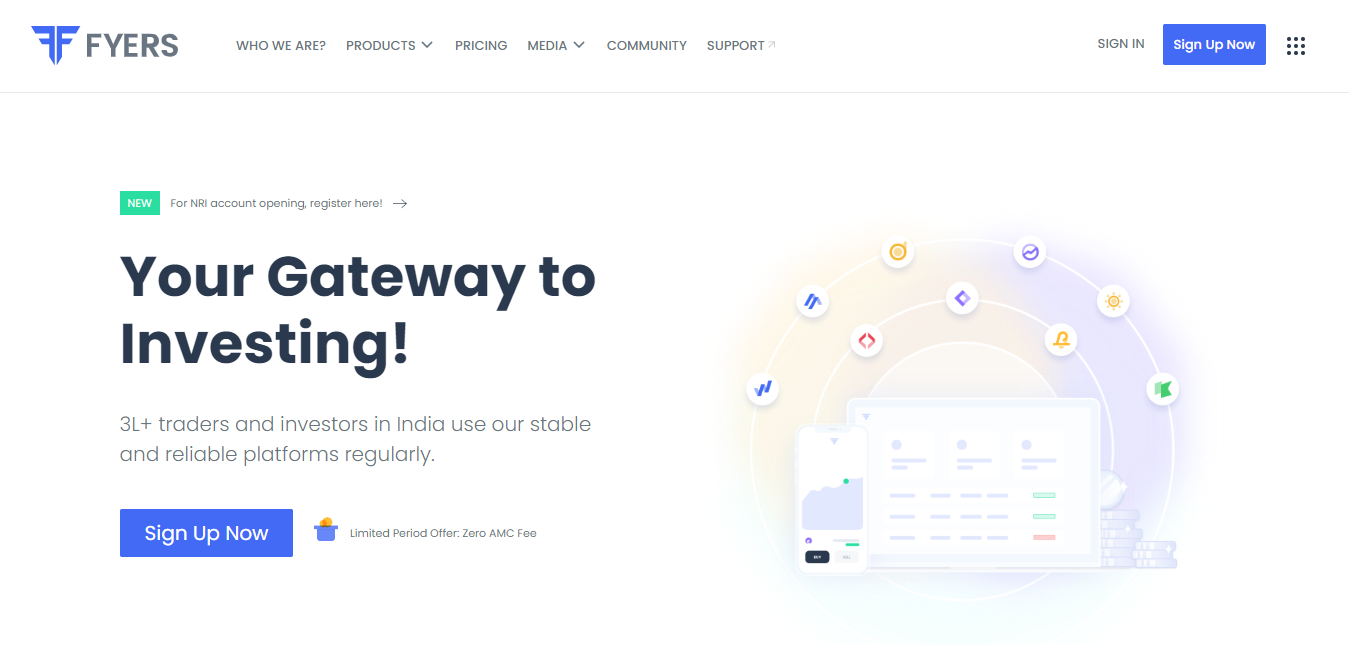 Fyers Securities, founded in 2015, is a Bangalore-based discount brokerage. Its goal is to provide a competitive trading platform and lower India's trading costs. In India, Fyers is a low-brokerage stockbroker. They are among the most affordable stockbrokers available online. Fyers' straightforward pricing approach charges Rs. 20 per completed order across all segments. Fyers charges the same high fee per performed order regardless of the size of your order.
Fyers does not charge any brokerage fees in the equity delivery area. Fyers Direct provides commission-free direct investments in mutual funds. Fyers Thematic Investing is a stock-basket investment platform that is free to use. You can buy a pre-made portfolio or build your own.
Fyers provides free website, desktop, and mobile trading platforms, created in-house. For traders, Fyers provides an amazing charting suite. The brokerage firm has a customer service desk for mail and helplines. Fyers, a bargain brokerage, charges a flat fee of Rs. 20 for every order. It is also one of the few stock brokers that offer fast, free online trading platforms. The platform provides unique features, excellent graphing, and data for advanced analysis.
5Paisa
5Paisa is India's top online stock broker. The founders of IIFL established this public trading company. It had over 1.2 million customers as of March 2021. The BSE, NSE, and MCX offer 5Paisa online trading in stocks, commodities, and currencies.
5Paisa is one of India's cheapest discount brokers. You can save up to 95% on brokerage fees if you are a frequent trader. It is a bargain stockbroker with a single fee. It charges a flat Rs. 20 fee regardless of the trade, segment, or exchange size. 5Paisa is ideal for beginners or high-volume traders looking for lower fees.
5Paisa is an online discount stockbroking company that offers ground-breaking innovations. A website, application, Robo advice, and Algo trading are all available from the broker. It is the only low-cost broker that researches the stock market and gives advice on how to trade.
m.Stock
With "Zero Brokerage for Life," m.Stock has access to the Indian broking sector. Mirae Asset is the largest brokerage in both South Korea and Indonesia. Mirae Assets redefines Indian stock trading with m.Stock. It is in charge of assets worth approximately $700 billion.
In April 2022, Mirae Asset's m.Stock launched Zero Brokerage. Zero brokerage on delivery, intraday, and F&O trades has transformed Indian brokerage. Mirae Asset puts technology first. Their apps and online websites are quick, simple, and stable.
In Indian broking, m.Stock is rolling back the power dynamic. For a one-time cost of Rs. 999, you can enjoy zero brokerage on all goods for the rest of your life. Suppose you are an experienced trader or a new investor. Mirae Asset's lifetime help is available for Rs. 999. There are no limitations to m.Stock's zero brokerage guarantee. All you have to do is open an m.Stock Demat account for a one-time fee of Rs. 999, and it will sort out your life!
Motilal Oswal
It is one of the most trusted and well-known stockbrokers in India, with more than 20 years of experience. Motilal Oswal & Ramdeo Agrawal are well-known in the Indian stock market. They always try to provide clients with high-quality, research-based stock recommendations. They are now among the largest stockbroking companies in the world.
Motilal Oswal is a stockbroker who works with investors and traders. A broker can help you do research if you want to invest for the short term or the long term. Yet, pricing is one arena that requires more clarification. According to reports, its broker plans are vague, with customers charged unknown fees. It is here that the broker must define its position. Besides, in customer service, this broker has the upper hand.