Best Bill Discounting Platforms in India
The Indian economy is dependent on small businesses as well as large corporations. Small and large businesses make up the Indian national stock exchange. But the small parties need consistent cash flow. Yet, it can be difficult for small businesses to balance how much money comes in and goes out.
Small businesses can use invoice discounting to fund operating expenses. Having enough working capital ensures the smooth running of a business. In this article, you will learn about invoice discounting and the best bill discounting platforms in India.
What Is Invoice Discounting
Invoice discounting is a way for a business to get a loan by using the money owed as collateral. This approach is to borrow money for a short period. Consider a finance firm disbursing unpaid amounts. When accounts receivable collateral changes, the finance company can adjust the debt's value for 80% of bills less than 90 days old.
Invoice discounting accelerates cash flow from clients. This is not to say that you should wait for customers to pay within their credit terms. When you send out the invoice, you immediately receive payment. Invoice discounting helps you get working capital because banks aren't lending as much. A reserve bank prefers invoice financing since debtors' unpaid invoices serve as security.
One may also argue that this is a method for businesses to borrow money based on numbers. Invoice financing helps businesses pay employees and suppliers and reinvest in processes. When a company, like a paper manufacturing company, borrows money, it pays the lender a part of the invoice.
Types of Invoice Discounting?
There are different types of invoice discounting based on the seller's needs.
Confidential Facility
In confidential invoice discounting, you perform without the customer's knowledge. Your customer pays your bills by depositing money in an account with the lender. This facility is more expensive than invoice discounting. Still, it helps build customer loyalty.
Spot Facility
Spot invoice discounting is the practice of selling individual invoices when required. This small business funding option gives you the most flexibility. It's OK if your company needs funds for projects and seasonal goods at different times. This small business funding option gives you the most flexibility.
Disclosed Facility
Everyone, including the customer or client, knows when you use stated invoice discounting. The customer pays their invoice to your financier rather than to you. Invoice discounting can use your customer's credit to earn a cheap financing fee.
Whole Turnover Facility
Instead of spot variation, whole turnover invoice discounting sells a sales ledger. If you own a business, this may be your best option.
How Does Invoice Discounting Work?
An invoice discount investing program consists of five essential steps:
Each customer receives a bill with their name, date, the amount owed, and the buyer and seller's names. The company uses invoice discounting to recover the money if the customer does not pay.
Bill discounting involves sending unpaid bills to a lender or invoice-discounting financial institution. Accounts receivable records provide information. Now, the bill discount lender examines each invoice.
The invoicing discount company gives the company a percentage of unpaid invoices. Rate and duration depend on business kind, invoice size, and bill discounting company.
A company uses debt collecting when they use a bill discounting service. A lender might collect bills for an invoice in particular instances. But most businesses that use invoicing discount services handle their collections.
When a consumer pays the rest of an invoice, the discounter pays the firm the rest after interest and fees.
But how to enforce invoice discounts? First, decide whether to discount your entire accounts receivable ledger or not. It is sometimes known as "full turnover invoice discounting." You could also decide only to discount select bills. This is referred to as "selective invoice discounting." Remember that selective invoice discounting is not always an option for small firms. Invoice discounting firms prefer to spread their risk as high as possible.
Following that, contact several invoices discounting providers and compare their services and rates. Get references from some of their other clients if possible. These are usually anonymous. But they might assist you in selecting which company to choose. Before making a final decision, consult with your accountant. They might be able to assist you in some way.
After you sign up for invoice discounting, they'll help you with the rest. This includes setting up payments, a trust account for customer payments, and invoicing. You can do most of this online using cloud-based invoicing software.
Why Is Invoice Discounting Helpful?
Invoice discounting is a quick technique for a company to ensure that it always has cash on hand. Without question, invoice discounting allows small firms to develop faster. This method of earning money has many advantages, including the ones listed below.
1. Confidential Invoice Discounting Option
For a variety of reasons, small businesses may want to consider a confidential invoice reduction. It lets businesses collect overdue invoices without notifying customers or suppliers. Customers have to pay if a corporation borrows money from unpaid invoices. A small firm with a discreet invoice discounting lender won't damage client relationships.
2. Confidentiality
Invoice discounting differs from invoice factoring. In this case, a third party controls the sales ledger and informs clients of the loan. As a result, the entire process can remain hidden.
3. More Control
You have business payment control when you engage with a discounting invoice lender. The lender has no contact with your clients and has no say in how you conduct collections on your own. You can maintain better client relationships while still discounting invoices.
4. Scalable Funding
Invoice-discounting budgets can grow with your company, unlike bank loans. The greater your customer base, the more money you can make on outstanding invoices. As a result, it's a simple approach for the quick expansion of small firms.
5. Boosts Credit Sales
Because invoice discounting can assist turn credit sales into cash. It can help a small business develop and take advantage of new opportunities.
6. Releasing Locked Cash
You can get the cash tied up in client invoices with invoice discounting. Invoice discounting's primary purpose is to convert your accounts receivable into cash. You can also use this money in an emergency.
7. Short Turnaround Time
Invoice finance is one of the easiest ways to get a business loan. If you're a trusted partner of an NBFC, it offers invoice financing. You can submit your invoices for invoice financing to reduce payment time.
8. Getting Quick Cash
Invoice discounting is a quicker way to receive cash than bank loans, which might take a long time. When you send an invoice, invoice discounting pays you instant cash payments. This extra revenue can increase sales, improve capital, and pay off significant debts.
9. No Impact on Business Relations
The vendor and buyer can continue doing business with invoice discounting. Discounting companies do not interact or communicate with the buyer. As a result, the buyer understands that he will only have to pay the seller and no one else.
10. Win-Win Situation
Invoice discounting protects both the corporation borrowing money and the customers. The company in need receives the cash advance immediately. Customers get a credit period right away. This is good for the company and its customers. It helps the company keep good relationships with its customers.
11. Improving Cash Flow
Invoice discounting firms might pay you faster than your customers. Invoice discounting helps small businesses cover costs while waiting for client payments. With the help of invoice discounting, you may convert up to 85% of the total amount, if not the entire value, into cash.
It also assists you in dealing with short working capital cycles. You'll get your money faster than a bank if you use invoice discounting. They are also in charge of determining whether the loan is reliable. Invoice discounting allows lenders to receive cash in as little as 48 hours. Besides, it is faster than traditional lending.
12. No Asset Collateral Required
Invoice discounting doesn't require firms to use collateral. Companies must only send client invoices to lenders. Small businesses with high-value invoices may give them to a lender for cash.
5 Best Invoice Discounting Platforms in India
Small and medium-sized businesses in India may have trouble raising funds. In this case, invoice discounting can be beneficial. In invoice discounting, firms sell unpaid invoices to lenders at a discount to get cash. Invoice discounting services in India can help you get cash. In the next part, we'll look at India's top five invoice discounting platforms.
KredX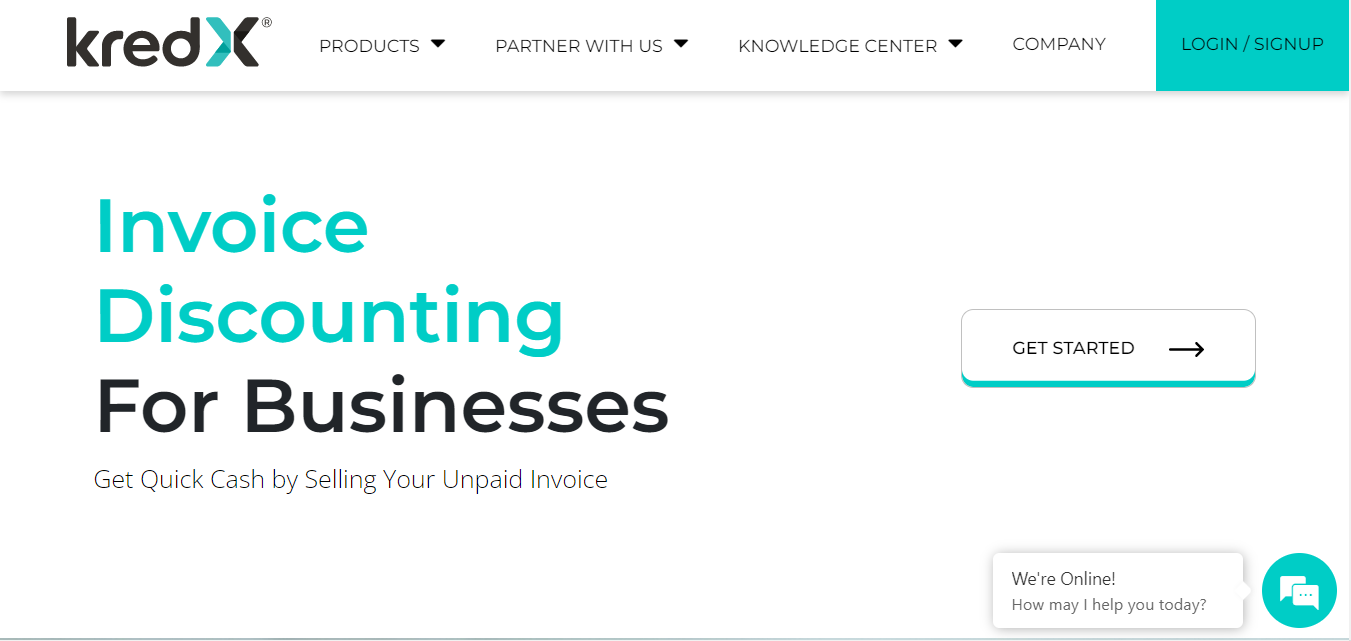 KredX is a leading invoice discounting provider. It provides invoice discounting services and products to consumers, corporations, and other organizations. Manish Kumar founded KredX to endpaper and increase returns with less risk. It helps Indian businesses with cash flow solutions. They allow you to invest in new ideas without paperwork and gain money with minimal risk.
It also aids in portfolio diversification by dispersing risk across other industries. You can expect a 12 to 20% return per year using KredX. KredX reduces your risk by allowing you to invest in before-paid bills. They enable you to get good profits in 30 to 90 days, unlike other financial institutions.
Yubi
Yubi is India's second-largest online corporate lending platform. Digital infrastructure with communication, monitoring, and matching features connects businesses and investors. You can choose from bill discounting to a line of credit. It will connect you with 750+ banks and NBFCs in India to pace up your business. Yubi employs cutting-edge analytics and machine learning to make receiving a loan simple. Yubi will assist you in locating the right lender for your company. It also provides valuable advice along the way.
TradeCred
TradeCred is the best invoice discounting platform for sellers and investors. Sellers post invoices on Tradecred and investors buy them. After the investment period, the investor can withdraw the money from TradeCred. There have been no defaults on TradeCred loans in the last three years. That means an investor has never invested and has never received a return. Before, only wealthy investors could use this platform. Regular retail investors can now use it as well.
Aye Finance
Aye Finance is one of India's leading providers of invoice discounting systems. They assist businesses of all sizes in obtaining the funds they need to develop and thrive. They provide many options to make money, like invoice discounting and business loans. Aye Finance lets businesses overcome financial challenges and reach their full potential. They want to provide excellent financing options and terms for businesses. The team works hard to assist companies in determining the best approach to fund their needs. Aye Finance's application process is simple and quick, which is a bonus. You must send your invoices to the platform, which will disburse your loan within 24 hours.
M1 Xchange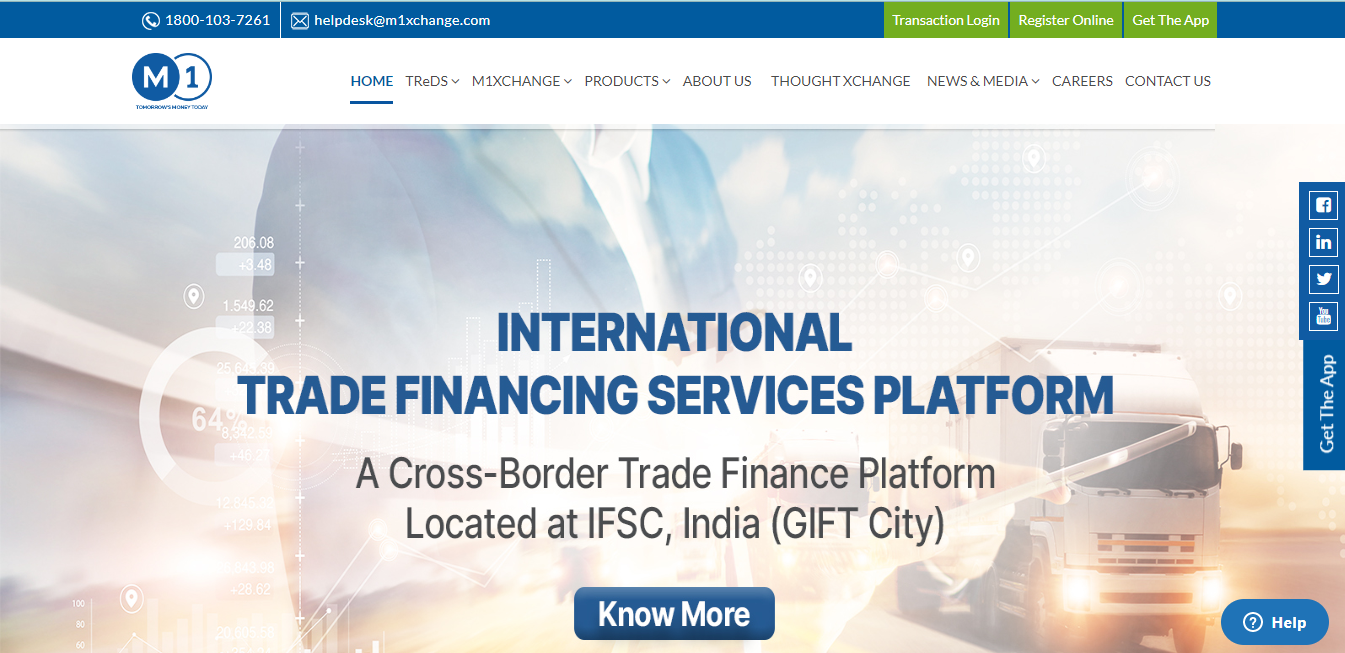 M1 Xchange produces one of the most well-known and regarded trade receivables solutions. This platform might save the day for MSMEs and small suppliers when money is tight. The RBI approved invoice discounting to finance MSMEs' loans and debts. The supplier should upload the invoice and email it to the client for approval. M1 Xchange confirms the financier as authorised to invest. After making an offer, the provider can select the best one and decide when to pay.
What Documents Are Required to Avail Invoice Discounting
In India, invoice discounting is a usual way for small enterprises to get funding. Unlike regular small industries development bank loans, businesses get funds based on bills. A company must present specific lender documentation to qualify for invoice discounting. Most of the time, these documents will include the following:
A copy of the company's balance sheet
A list of the invoices that the company has yet to pay
The company invoices in the form of a bill of lading or other shipping documents.
A contract between the company and the lender.
Before applying, check with your lender to see what's needed. Invoice discounting can be easy to get money for your small business if you have the proper documents.