How to Invest in Properties Online in India?
Investing portfolios today include stocks, mutual funds, gold, cryptocurrencies, and much more. A report claims that real estate makes up 77% of the average Indian household's total assets. Real estate in India has been a popular investment due to its capital growth and inflation hedge. High investment costs and limited cash flow make REITs safer. It can also make you more diverse than property ownership.
Commercial real estate (CRE) investments have been increasing for some time. Commercial property is less risky for lenders than residential projects. Business owners who need office space or warehouse facilities are in high demand. Like a mutual fund, REIT shares allow investors to buy income-producing property assets. The REIT pays unit holders any real estate revenue. This article discusses CREs, REITs, online investing, and India's top real estate platforms.
What are Commercial Properties and RIETS
CRE or Commercial real estate can generate capital gains or rental income. Commercial property is real estate for business purposes. Commercial property includes businesses, profitable land, and large rental homes. A property is a business if you can profit by renting it out or keeping it and selling it again.
REITs, or real estate investment trusts, are companies that own or finance income-producing real estate across a range of property sectors. These firms must meet several requirements to become REITs. Based on real estate mutual funds, REITs combine many investors' capital. Individuals can invest in real estate without buying, managing, or financing properties.
Property Market in India
The Indian real estate industry has faced major challenges in recent years. Despite the implementation of RERA, this industry is not growing. RERA, Real Estate Regulatory Authority, seeks to safeguard home buyers while encouraging real estate investment. Low demand and unfinished projects have affected this sector. But the cost of good real estate properties is not decreasing in India's major cities. In India's largest cities, real estate costs have risen over the past two years. Various cities see different rates of price growth. If you buy a property in Hyderabad, capital growth will be moderate. Your property will be more valuable if you buy a Gurgaon property. [1]
There is no doubt that the price of the property will rise regardless of where it is located in India. Why? This is because India's population is growing, and the middle class is getting bigger. Home prices have increased in cities like Ahmedabad, NCR, Mumbai, Pune, and others. Why? Individuals move to these cities from other states for jobs and businesses. Other smaller cities exhibit the market momentum of metro cities. 
Indian real estate costs have increased by at least 5% per year over the past five years. Add the estimated 3.5% rental yield on top of that. The entire return now stands at 8.5% per year.
Why Should You Invest in Properties in India?
Everyone aspires to have a bright future. There are many places where people may invest their capital. Real estate is a good investment with high potential and low risk. After COVID-19, foreign investors are ready to move money from China to India. This will help India's real estate market.
As more people move, there are more jobs, immigrants, and people buying homes. The cost of the property will increase as a result of the increasing demand. India is a good place to invest as it has the potential for economic growth and a high return on investment. A lot of Indians like to invest in real estate because:
Real estate investment in India may result in large tax savings for earners. Stamp duty, registration fees, and other costs are tax-deductible.
Investing in real estate can help you get rich because the value of a property can grow at a very fast rate. When people moved to cities, many sold their land and other assets and got rich.
Things to Consider Before Investing in Properties in India
Real estate investing in India is risky because it requires a big investment. An investor making a single mistake could cost a lot of money. When investing in real estate in India, you must know the list of things you should consider.
It's crucial to comprehend the properties' dynamics before investing. Residential property buyers should research mortgage rates, developer deals, and government policies.
Property Survey and Location
When buying a home, location is of utmost significance. Residential real estate investors must be near services, markets, and transportation hubs. You must also decide between a pricey central location and a big, less expensive, urban area. Consider the property's accessibility to markets, highways, and warehouses before buying in India. Consider growth and infrastructure investing in long-term real estate, especially in India.
A detailed analysis can improve understanding of the property's potential and liabilities. Also, buyers should compare the property's blueprint and its real size. Customers should hire a lawyer during the whole process of buying a home. They must use RERA to check properties for more openness. Safety is another important factor to take into account. To get the most accurate picture of the area and property, visit it several times and at various hours of the day.
REITs are great investments as 80% of their assets are functional and income-generating. It is a low-risk method of diversifying an investment portfolio. Though the epidemic affected rental cash flows, the long-term picture is still valid.
Before investing in Indian real estate, create a detailed budget. Always consider your goal and the expected duration of your investment. It will help you determine how much you should set aside for the down and monthly loan payments. In the long run, this will assist you in avoiding any financial difficulties.
The title is the single aspect of buying real estate that will never alter. Thus, conducting a legal company investigation into the property's title is crucial. When it comes to secondary sales, this is even more crucial. Title-related problems are very time-consuming and expensive to fix. The seller and broker get the property documentation and sale agreements in a deal. One should also be on the lookout for any charges or outstanding fees that might be there.
How to Invest in Properties Online in India?
Real estate is your best alternative if you want to expand your investment portfolio. Investing in real estate is one of India's most lucrative business ventures. It is a very risk-free investment that produces large returns. If you want to improve your financial security, consider investing in real estate. The conventional property market is currently undergoing rapid change. People are now interested in learning how to invest in property online.
All the advantages of real estate investment are now available on internet platforms. This is because of the development of technology. Today, you can invest in property online. Still, you can enjoy the benefits of physical properties. There are a few options to invest in property online in India. You must seek a strategy to increase your money without taking unnecessary risks. Investment in Real estate is now revolutionalized because of technological development. Some ideas that enable investors to hold property without owning it are as follows:
A real estate investment trust is a business that deals with real estate. It owns and oversees properties with an income stream. REIT helps investors to earn profit from real estate. REIT helps you to earn by the growth, without owning properties by buying REIT shares.
Online Real Estate Platforms
Real estate developers and investors can communicate online using platforms. Investors invest money in real estate projects for monthly or quarterly payments. Sometimes it also includes interest.
Syndicating real estate is a type of crowdfunding that emphasizes collaboration. Investors combine their expertise and resources to buy expensive estates. After that, they divide the earnings.
Real Estate Investment Groups (REIG)
A real estate investment group (REIG) refers to a business that focuses the majority of its efforts and capital on real estate. In search of profits, real estate investment groups may choose to buy, renovate, sell, or finance properties. It aggregates money from several investors to venture into multi-unit and commercial properties.
Best Platforms for Investing in Properties in India
Small investors can invest in larger commercial or residential properties on online platforms. Through online portals, a practice referred to as real estate crowdfunding. You can invest in properties through these online platforms. A financial investment is necessary for almost everyone. Although, it is less demanding than buying the houses outright. 
Additionally, this choice offers regional diversification. It enables an individual can invest in one or more businesses. For someone new to property investment, investing in India can be worrisome. But, this sector might be a gold mine for investors with the correct developer and management. The best websites for investing in Indian real estate are below.
Property Share
Property Share offers partial ownership in chosen rentals. Property Share connects owners with investors. High thresholds discourage investors from purchasing excellent real estate, leading to riskier investments. You can buy a share of high-quality development with Property Share for as little as Rs. 500,000 and start receiving monthly rent payments.
How to Invest
Property Share first evaluated the market, rental yields, and genuine titles. Then, its team lowered items and services. You can schedule a call with the agent by clicking the "Invest Now" option. Get your investment's rent payouts deposited into your bank account. The data-driven dashboard tracks your portfolio's performance, such as property value. You can always sell your item through the resale platform.
PropReturns
A marketplace for Indian real estate investment trusts is PropReturns. PropReturns verifies property data, financial research, and market trends to aid investors. BITS Pilani alums built this platform. PropReturns made Indian real estate investments transparent and accessible. Real estate investments may produce wealth and passive income. PropReturns makes real estate in India simple, available, and transparent.
How to Invest
600+ investment possibilities at incredible places across the nation are available with PropReturns. The company will provide you with a specialized relationship manager. The manager will assist you in choosing the ideal investment! Verifiable data, market analysis, and algorithm-produced financial indicators check investments. PropReturns handles transaction flow, discussions, documentation, and finance.
MYRE Capital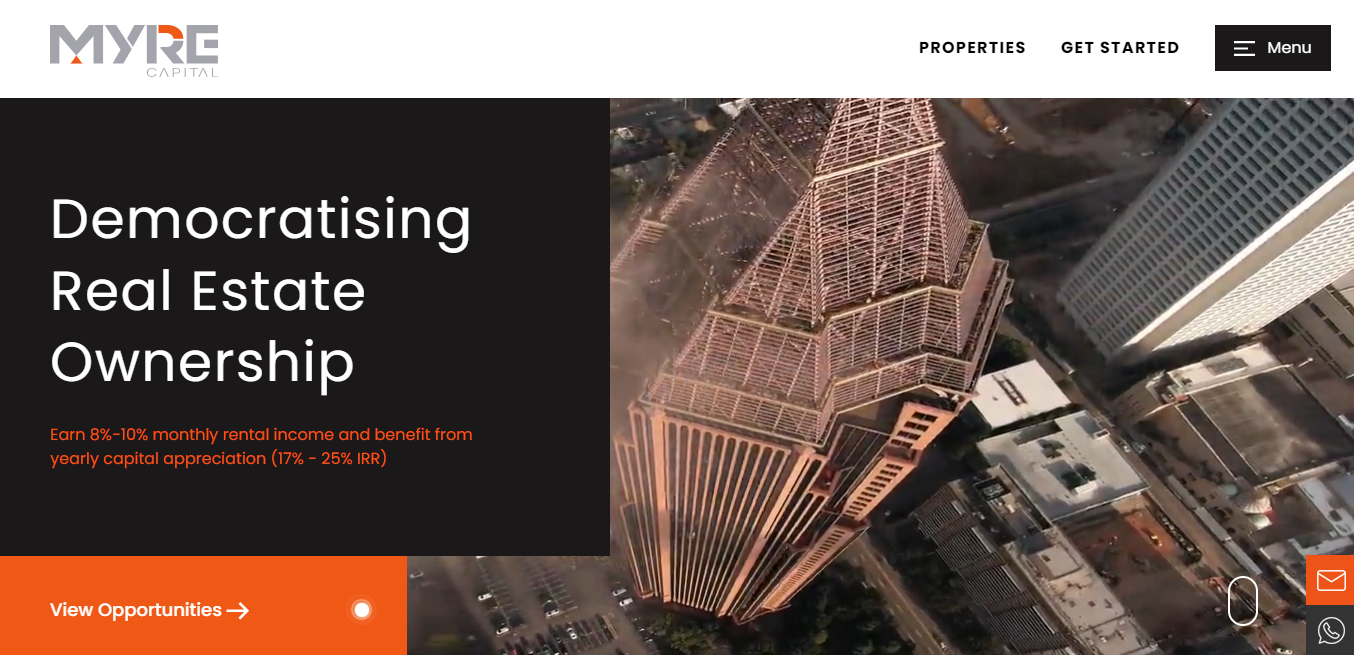 A selected collection of rent-yielding CRE assets is accessible. It is also transparent and liquid on the tech-enabled platform MYRE Capital. It accepts investments starting at INR 25 lakh. MYRE Capital has confidence in the long-term performance of the assets it has chosen. The availability of institutional-grade assets for regular investors is the goal. Institutions control significant commercial real estate, and overseas investors are increasing. A private investor buys a risky commercial property that may not make enough money.
How It Works
MYRE Capital has enough preparation and understanding in its field. The company aims to deal with conventional obstacles. The investment for a special-purpose vehicle that owns the underlying asset. Being an asset manager, MYRE Capital ensures the investing process. It also assists in the time after the real estate buys goes as possible for all parties involved. This has resulted in fewer ticket sizes and a diversified yet thorough portfolio. The team of internal experts also manages tenant relationships. This makes it easier for everyone to talk to each other.
GripInvest
The Grip is a digital investment platform that prioritizes investor transparency. It is an investment platform that goes above and beyond traditional investments. The gains you earn at The Grip are risk-adjusted and unrelated to the market. The new company is a cutting-edge financial platform. It aims to make investment opportunities more accessible to everyone. The company aims to help people who are having trouble finding new ways to invest and help them get richer.
How It Works
With Grip Invest, you can support an asset. It can also maintain a greater fixed-income return (lower risk). Furthermore, it gives businesses a chance to lower operating expenses. It can raise funds without worrying about traditional equity providers' credit criteria. The team finds firms interested in leasing assets to meet their capital requirements. With Grip's platform, small investors can get in on these opportunities with as little as Rs 10,000 and get an IRR of 15%.