Best Online Payment Gateways in India For eCommerce & Selling Online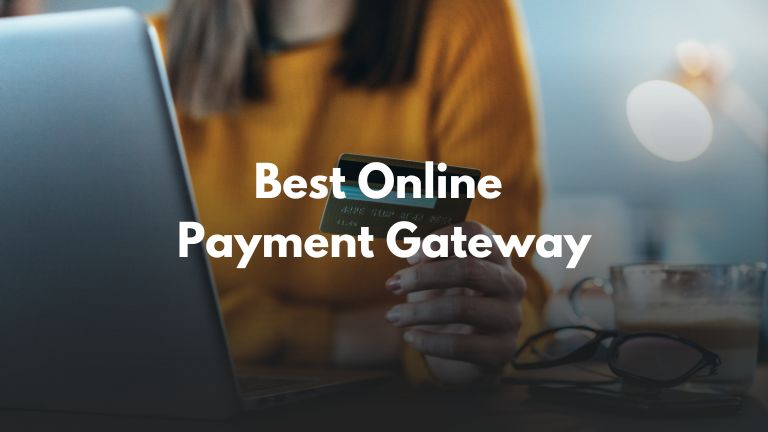 It can be difficult to choose a payment gateway for your eCommerce store whether it is a startup, small business, or a brand. You need to spend time and research different payment gateways before choosing one for your eCommerce store.
Here, we have mentioned the top 5 online payment gateways in India for E-commerce and selling online. You can choose one that fits your needs and budget perfectly.
1. Razorpay
Razorpay is the best payment gateway in India. This platform accepts payment modes including credit cards, debit cards, net banking, UPI, and other famous wallets such as JioMoney, Mobikwik, PayUmoney, Airtel Money, FreeCharge, Ola Money, and PayZapp. Razorpay accepts, processes, and distributes payments with its product suite.
Razorpay also has a very high level of tech integration at an affordable price. The annual maintenance charge of this payment platform is zero. Razorpay payment gateway has a simple and transparent pricing plan with no hidden fees. It includes 2% per successful transaction, 1% for international cards, EMI, and Amex. There are no setup fees charges on this platform. Plus, GST is applicable to 18% of the transaction fee.
With Razorpay, you can manage your marketplace, automate bank transfers, collect recurring payments, share invoices with customers, and also allow its users to avail themselves of working capital loans. Razorpay says that you can fast forward your business with their platform.
This payment gateway has over 100 payment methods. It is quite easy to integrate, completes settlements instantly from day 1, and has in-depth reporting and insights.
Moving further, let's discuss features of Razorpay payment gateway–
International payment and credit card support- international approval needs the bank's approval and is a long process.
Multi-currency support is not provided
Zero withdrawal fees
Settlement days- 3 days in your bank account connected with Razorpay
Chat support and IVR is available 24/7 for customer support, always available email, phone, and chat-based support at every step
Documentation required
Mobile app integration: Mobile SDK's for Android and iOS via Cordova/Phonegap
Razorpay has all major platforms and languages, and you can integrate easily in less than an hour.
Razorpay has complete API-driven automation which requires zero manual intervention.
100 plus payment modes are offered including Credit/Debit cards, Netbanking, UPI, Wallets, etc.
It has innovative payment solutions with competitive pricing
Real-time data and insights on the Razorpay dashboard helps you make informed business decisions
Secure- PCI DSS Level 1 compliant solution removes your load of regulatory compliance.
2. Cashfree
Cashfree is another popular payment gateway in India. This payment gateway provides huge range of payment options which includes debit/credit cards, 75 plus net banking options, Paytm, and 6 famous mobile wallets like Airtel, Mobikwik, Freecharge.
Adding to this, this payment gateway also offers a huge range of PayLater and cardless EMI options like ZestMoney, OlaMoney postpaid, etc. Cashfree supports UPI, NEFT, IMPS, and PayPal also. This payment solution's pricing is just 1.75% on every transaction. These are the lowest TDR charges charged in India. Next, they also have the fastest settlement cycle of 24-48 hours only. This makes Cashfree, one of the best payment gateways.
They offer an Instant settlement feature to its users which allows businesses to access the funds just within 15 minutes of payment capture. They are popularly known for introducing advanced payment gateway features like the Refunds suite which includes instant refunds, preauthorization on card payments, and Cashgram-Payout Links for COD order refunds.
Next, they have a feature-rich dashboard that can be used to create orders and collect payments. Cashfree has a huge range of integration for both website and mobile applications. Businesses can easily select from the wide range of payment gateway integrations offered on Cashfree.
Furthermore, it also has inbuilt eCommerce payment gateway plugins for several platforms such as Shopify, Woocommerce, Magneto, OpenCart, etc.
The charges of Cashfree Payment Gateway are-
Zero Initial setup fees, Zero annual maintenance charges, zero minimal annual business requirement. Fees per transaction- credit and debit cards on Visa, Mastercard, Maestro, RuPay, 75 plus net banking: Flat fee at 1.75% and Rs. 0 per transaction, UPI- flat fee at 1.75% and Rs. 0 per transaction. Wallets: Paytm, Airtel Money, Freecharge, Mobikwik, Ola Money, Jiomoney- flat fee at 1.75% plus Rs. 0 per transaction. International credit cards on Visa, Mastercard, and American Express- flat fee at 3.5% and Rs. 7 per transaction.
Taxes- domestic cards and internet banking options- Visa, Mastercard, Maestro,  RuPay, and 75 plus net banking. Internation payment and credit card support by Visa, Mastercard, and American Express. Pay later and EMI options- Ola Money postpaid, Lazy Pay, and ePayLater.
Features-
Recurring Payment or Subscription management.
Multi-currency support
Mobile app payment gateway integration
24 hours sell today and get paid tomorrow
Smart analytics
Account activation in 24 hours of sign up
The online registration process needs only a scanned copy of the canceled cheque, PAN card, and address proof.
Customer support with a dedicated account manager assigned to each user. Live chat support is available on Mon-Sat.
3. Paytm
Paytm is one of the leading payment gateways due to its online consumer base with Paytm Cash wallet. This payment gateway can be quite beneficial for small eCommerce merchants.
Domestic credit cards supported include Visa, Master, Maestro, Amex, Discover, and Diners with a flat fee, 1.99%. Internation credit cards supported include Visa, Master, Maestro, Amex, Discover, and Diners. The pricing of Paytm gateway- initial setup fees is Rs.5000, Annual maintenance charges are Rs. 5000, zero minimum annual business requirement.
Applicable fees per transaction are 1.99% for Paytm wallets, net banking, and credit cards. 0.4% is charged for below Rs. 2000 via debit cards/0.9% for amounts above Rs. 2000. 0% is charged for Rupay card and UPI, 2.8% for international credit/debit cards. 0% transaction fees for all startups and multiple currency support with 72 plus currencies.
Domestic debit or credit cards on Visa, Mastercard, Maestro, Rupay at a flat fee of 1.99%. Amex, ezeClick, JCB, and Diners at a flat fee of 1.99%.
Taxes extra as applicable from time to time. It supports all kinds of credit cards. Multicurrency support is given to 72 currencies. Multi-currency transaction charges are not applicable with Paytm and zero withdrawal fees are charged.
Settlement days are only 1-2. They offer optional real-time/same-day settlements. Very good customer support is provided throughout the week.
Features-
Documentation required- new merchants accounts need to provide business registration and bank account details
Paytm payment gateway takes 2 days time after submission of required documents to make a transaction
Shopping cart kits available with Paytm are open cart, magneto, Zencart, Prestashop, OSCommerce, Ubercart, moodle, Nopcommerce, gravity forms, etc.
Paytm payment gateway integration kits are available in PHP, ASP.NET, Ruby on Rails, JSP, VB.NET, and OSCommerce.
Mobile app integration is available for both Android and iOS.
4. PayU
PayU is one of the best payment gateways in India. This payment gateway accepts online payments with very little effort. Plus, the sign-up is very easy and PayU has a fast onboarding process. This payment solution makes sure that you accept payments securely and seamlessly with Windows app, Android, or iOS. It just takes a few minutes and has a 100% online hassle-free onboarding process.
This is one of the leading financial services providers in global growth markets. It helps merchants and businesses to buy and sell online and also provides financial services to its users.
PayU has zero annual maintenance charges. The transaction fee per transaction is 2% plus the GST for each transaction. For American Express and Diners Cards, transaction fees are 3% plus GST for international transactions and EMI payment options. PayU also has set-up fees that must be paid along with Annual Maintenance Charges (AMC). the transaction rates are 3% and Rs.6 for each transaction.
PayU is ready for developers to plug in and make payments. This platform has developer-friendly documents, web libraries, API reference, test environments, Plug and Play, and responsive designs.  
Next, PayU has 100 plus payment options, is easy to integrate, has the best payment success rate, fast checkout, supports all devices, and has 24/7 integration support.
Features-
International Payment/ Credit card Support
Domestic credit cards supported are Visa, Mastercard, Diners, Amex
Multi-currency support available
Zero withdrawal fees
Takes 2 plus days for settlement
Customer support seems to be busy always
An extensive list of documents required
5-7 days for the transaction
Supports all major eCommerce CMS Systems
Mobile app integration in Andriod, Windows, and iOS
5. Instamojo
Instamojo is a payment gateway that allows new merchants to create a merchant account in just a few minutes and collect payments online very easily. This platform has quite reasonable charges as compared to others.
This is one of the simplest online selling platforms. Instamojo helps independent businesses, MSMEs, and startups with online stores and online payment solutions to run eCommerce businesses successfully.
Instamojo has 20,00,000 plus Indian businesses using its amazing features. There are 100 plus online payment modes available including Google pay, net banking, debit cards, and the credit card, EMI, and also has to pay later option. Get paid out in 3 business days for your transactions. This payment gateway has easy payment integration. You can use this on gateway on Woocommerce, Magneto, and more. Also, you can use your flexible APIs and plugins to integrate payments with ease.
Collect payments from your own page or blog, just by pasting a button. This app guarantees a seamless checkout experience for your customer. Instamojo has a professional and custom look without any coding. You can brand your pay button, add more context to the description, and customize button text.
Instamojo service charges include- zero annual maintenance charges, transaction fee per transaction is flat fee 2% and Rs. 3 per transaction.
With Instamojo, you can collect payment very easily. You can create a link from your Instamojo dashboard. You can share it on Email, SMS Whatsapp, Facebook, and more. This payment gateway also allows a birds eye's view of how your sales are performing. You can also track sales, initiate refunds, export data, call customers, and even more.
With Instamojo, you can track complaints, close tickets, issue refunds, and escalate issues if required.
Features-
International payment/ credit card support is not provided
Multi-currency support is not prived, only INR
Zero Withdrawal fees
3 days in your connected bank account for settlement
The IVR system at Instamojo says they are closed for weekends. However, customer support is not much active on weekdays as well.
A documentation list is provided after signing up
You can start receiving payments after signing up with your email.
Instamojo supports all major eCommerce CMS systems such as Magneto, Prestashop, Opencart, etc
Mobile app payment gateway integration is not available yet