How to Start a Permanent Jewelry Business [Step by Step Guide]
Want to learn how to start a permanent jewelry business?
Firstly, understanding the potential market for permanent jewelry is crucial. You can position yourself effectively in the indching competitors and identifying unique selling points. This will allow you to cater to customers' demands seeking high-quality, long-lasting jewelry.
Secondly, determining the initial investment required is essential. Whether you plan to be a permanent jewelry artist or offer permanent jewelry services, knowing the startup costs involved will help you make informed decisions about your budget.
Lastly, establishing a clear vision and goals for your business is vital. Defining what sets your permanent jewelry apart will enable you to target specific customer segments and build a strong brand presence.
So, if you're ready to dive into the world of permanent jewelry business, keep reading for expert advice and actionable steps to set you on the path to success.
Industry Size and Growth: Trends in the Permanent Jewelry Business
When it comes to the permanent jewelry business, understanding the industry size and growth trends is crucial for success. By keeping up with the latest trends, you can stay ahead of the competition and make informed decisions for your business. Here, we'll explore the industry size and growth trends in the permanent jewelry business.
Industry Size
The permanent jewelry business is a thriving industry with a significant market size. According to recent statistics, the global jewelry market was valued at over $300 billion in 2020 and is expected to reach $480 billion by 2027. This growth is driven by factors such as increasing disposable income, changing consumer preferences, and the rise of e-commerce platforms.
Growth Trends
Customization: One of the prominent trends in the permanent jewelry business is the growing demand for customized pieces. Customers now seek unique and personalized jewelry that reflects their individuality. Offering customization options can help you attract more customers and stand out in the market.
Sustainable Jewelry: With increasing environmental awareness, there is a rising demand for sustainable and ethical jewelry. Consumers are looking for jewelry made from recycled materials, ethically sourced gemstones, and produced using eco-friendly practices. Incorporating sustainable practices into your business can appeal to this growing market segment.
Online Presence: The jewelry industry has witnessed a significant shift towards online sales in recent years. E-commerce platforms provide a convenient and accessible way for customers to browse and purchase jewelry. Establishing a strong online presence through a website and social media platforms is essential for reaching a wider audience and driving sales.
Influencer Marketing: Influencer marketing has become a powerful tool for promoting jewelry brands. Collaborating with influencers who have a strong online following can help increase brand visibility and credibility. Consider partnering with influencers who align with your target audience and brand values.
Diversification: To cater to a broader customer base, many jewelry businesses are diversifying their product offerings. This includes expanding into different jewelry categories, such as fine jewelry, fashion jewelry, or even incorporating accessories like watches and handbags. Diversification can help you capture a wider market share and boost revenue.
Understanding the industry size and growth trends in the permanent jewelry business is essential for positioning your business for success. By staying informed and adapting to these trends, you can attract more customers, increase sales, and stay ahead of the competition. So, keep your finger on the pulse of the industry and embrace the opportunities that arise.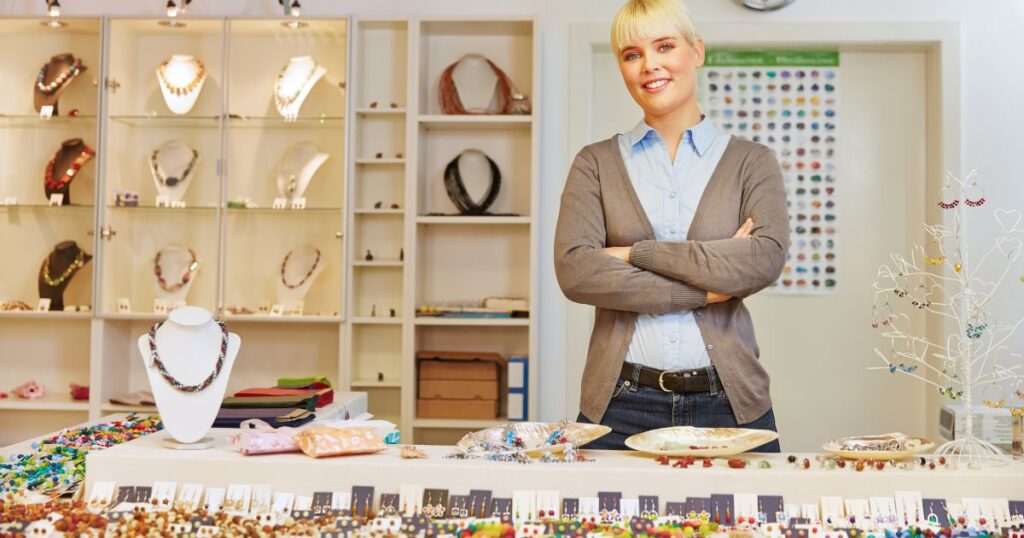 Understanding the Process and Mechanics of Permanent Jewelry
Permanent jewelry has become increasingly popular in recent years, offering a unique way to express oneself through body modification. Whether you're considering getting a permanent jewelry piercing or starting your own business in this industry, it's crucial to understand the process and mechanics involved.
Learn about Different Types of Permanent Jewelry Techniques
There are various techniques to choose from. Each technique offers its own distinct style and method of application. Some popular options include:
Dermal Anchors involve implanting a small metal plate under the skin with an exposed hole for attaching jewelry.
Microdermal Piercings: Also known as surface anchors, these involve inserting an anchor into the dermis layer of the skin.
Transdermal Implants: These implants feature a bar that passes through the skin with removable tops for attaching different types of jewelry.
Subdermal Implants: These implants are placed beneath the skin to create raised designs or shapes.
It's essential to research each technique thoroughly before deciding which one aligns best with your vision for a permanent jewelry business.
Familiarize Yourself with Materials Used in Permanent Jewelry Making
To ensure customer satisfaction and safety, understanding the materials used in permanent jewelry making is crucial. Here are some commonly used materials:
Surgical Stainless Steel: This material is widely recognized for its durability and hypoallergenic properties.
Titanium: Known for being lightweight and corrosion-resistant, titanium is another popular choice among individuals with sensitive skin.
Bioplast: This flexible material is ideal for initial piercings as it reduces irritation and promotes faster healing.
Gold: Gold is often preferred for its aesthetic appeal but may require additional care due to its softness.
By familiarizing yourself with these materials, you can offer a diverse range of options to your customers while ensuring their safety and comfort.
Understand the Safety Precautions and Hygiene Practices Involved
Safety should always be the top priority. Before starting your business, it's crucial to understand and implement proper safety precautions and hygiene practices. This includes:
Sterilization: Ensuring that all equipment, jewelry, and surfaces are properly sterilized using autoclaves or other approved methods.
Gloves and Masks: Wearing gloves and masks during procedures to minimize the risk of infection.
Single-Use Needles: Using single-use needles for each piercing to prevent cross-contamination.
Proper Disposal: Disposing of used needles, gloves, and other materials in designated biohazard containers.
Implementing these safety measures will ients and establish trust in your business.
Gain Knowledge about Aftercare Procedures for Permanent Jewelry
Aftercare is an essential part of any permanent jewelry procedure. Educating your clients on proper aftercare procedures will help ensure successful healing and reduce the risk of complications. Some general aftercare tips include:
Cleaning: Instruct clients on how to clean their piercings using saline solution or mild soap.
Avoiding Irritants
Choosing an Ideal Location and Workspace for Your Jewelry Business
Starting a permanent jewelry business requires careful consideration of various factors, including the location and workspace. The right location can significantly impact your business's success, while a well-designed workspace ensures efficient operations.
Consider Accessibility, Foot Traffic, and Target Audience
When selecting a location for your jewelry business, it's crucial to consider accessibility, foot traffic, and your target audience. Choose a place that is easily accessible to potential customers. Opt for a central location with good transportation links to attract local residents and tourists.
Foot traffic plays a vital role in attracting customers to your store. Look for areas with high pedestrian flow where passersby will likely notice your shop. Shopping malls or busy commercial streets can be excellent options due to the constant stream of people.
Understanding your target audience is key to finding the right location. Research the demographics of different areas to identify places where potential customers are more likely to reside or visit frequently. For instance, if you specialize in luxury jewelry items, consider setting up shop in an upscale neighborhood frequented by affluent individuals.
Evaluate Rental Costs, Lease Terms, and Zoning Regulations
Before finalizing a space for your jewelry business, thoroughly evaluate rental costs, lease terms, and zoning regulations. Rental expenses can significantly impact your budget; therefore it's important to balance affordability and prime locations.
Consider negotiating lease terms that align with the growth plans of your business. A longer lease may provide stability but could limit flexibility if you outgrow the space sooner than anticipated. On the other hand, shorter leases allow more flexibility but might come with higher rental costs.
Ensure compliance with zoning regulations specific to jewelry businesses in the chosen area. Some locations may have restrictions on certain types of businesses or require additional permits. Familiarize yourself with these regulations to avoid any legal complications down the line.
Ensure Adequate Lighting, Ventilation, and Storage Options
Creating a well-equipped workspace is essential for a jewelry business. Ensure your chosen space provides adequate lighting, ventilation, and storage options to support your operations effectively.
Proper lighting is crucial for showcasing the beauty of your jewelry pieces. Natural light or high-quality artificial lighting can enhance the visual appeal of your products. Consider installing adjustable lighting fixtures that allow you to control brightness and focus on specific displays.
Ventilation is another important aspect to consider. Working with various materials in jewelry making may involve chemicals or fumes that require proper ventilation to maintain a safe and healthy environment for you and your employees.
Ample storage options are necessary to keep your inventory organized and easily accessible. Invest in shelves, cabinets, or display cases that suit the size and quantity of your products. A clutter-free workspace enhances efficiency and creates a pleasant shopping experience for customers.
Create an Organized Layout for Efficient Workflow
Designing an organized layout is crucial for ensuring efficient workflow in your jewelry business. A well-planned workspace maximises productivity while creating an inviting atmosphere for customers.
Consider the flow of activities within your workspace when arranging workstations, equipment, and display areas. Place workbenches near necessary tools and equipment to minimize unnecessary movement during production processes.
Selecting a Name and Developing a Brand Strategy
When starting a permanent jewelry business, one of the crucial steps is selecting a name that reflects your brand identity. Here are some talking points to help you navigate through this process and develop an effective brand strategy.
Brainstorm unique name ideas that reflect your brand identity.
To begin, gather a list of potential names for your jewelry business. Let your creative mind flow and think about words or phrases that resonate with the type of jewelry you want to create and the audience you aim to attract. Consider the following:
What message do you want your brand to convey?
What emotions do you want customers to feel when they hear or see your business name?
Are there any specific themes or symbols associated with your jewelry?
By brainstorming unique name ideas, you can set yourself apart from others in the industry and establish a memorable brand identity.
Conduct thorough research to ensure the chosen name is not already trademarked or used by others in the industry.
Once you have a list of potential names, it's essential to conduct thorough research to avoid any legal issues down the road. Check if any similar business names are already trademarked or being used by other jewelry companies. This step will help protect your brand from potential conflicts and confusion among customers.
You can use online databases or consult with legal professionals specializing in trademarks to ensure that your chosen name is available for use. Taking this precautionary measure will save you time, money, and headaches in the long run.
Define your target market, brand values, and positioning strategy for effective branding.
Before finalizing your business name, it's important to define key aspects of your brand strategy. Start by identifying your target market – who are they? What are their preferences? Understanding their needs will help tailor both your name and branding efforts towards attracting them effectively.
Next, consider what values are important to you as a jeweler. Do you prioritize sustainability, craftsmanship, or affordability? Clearly defining your brand values will help shape the perception of your business and resonate with your target audience.
Lastly, determine your positioning strategy. How do you want customers to perceive your jewelry in comparison to others in the market? Are you offering exclusive luxury pieces or affordable everyday wear? By clarifying these aspects, you can align your name and brand identity accordingly.
Develop a compelling brand story that resonates with customers.
To truly connect with customers, it's crucial to develop a compelling brand story that goes beyond just the name. Craft a narrative that communicates the essence of your jewelry business and why it matters. Consider the following elements:
What inspired you to start this business?
How did your journey lead you to create unique pieces?
What sets your jewelry apart from others?
A well-crafted brand story will engage customers on an emotional level and help establish a loyal customer base.
By following these steps – brainstorming unique names, conducting thorough research, defining target markets and brand values, and developing a compelling brand story – you can lay a solid foundation for starting your permanent jewelry business. Remember, selecting the right name is just one piece of the puzzle; building an effective brand strategy will set you apart from others in the industry and attract customers who resonate with what you offer.
Building a Professional Website and Showcasing Your Jewelry Products
Starting a permanent jewelry business requires an online presence that showcases your exquisite pieces to potential customers. One of the first steps in establishing this digital storefront is building a professional website. Here are some essential tips to help you create an impressive online store that captivates visitors and drives sales.
Choose a User-Friendly Platform
To ensure a smooth website-building process, opt for user-friendly platforms such as WordPress or Shopify. These popular options offer intuitive interfaces and numerous customizable templates tailored specifically for e-commerce. With their drag-and-drop functionality, you can easily design your website without any prior coding knowledge.
Create Visually Appealing Product Images with Detailed Descriptions
High-quality visuals are crucial. Invest in professional product photography or learn how to capture stunning images yourself. Ensure that each piece is showcased from different angles, allowing customers to appreciate its unique features.
Accompanying these visuals should be detailed descriptions that highlight the materials used, dimensions, and any other pertinent information. By providing comprehensive descriptions, you enable potential buyers to make informed decisions about their purchases.
Implement Secure Payment Gateways
Building trust with your customers is paramount in the world of e-commerce. Implement secure payment gateways on your website to facilitate smooth online transactions while assuring customers that their personal information is safe. Popular options include PayPal, Stripe, and Square.
Prominently display trust seals or badges on your website to further enhance customer confidence in making purchases from your online store.
Promote Customer Reviews/Testimonials
Word-of-mouth plays a significant role in attracting new customers and building credibility for your brand. Incorporate customer reviews or testimonials on your website as social proof of the quality and satisfaction experienced by previous buyers.
Encourage satisfied customers to leave feedback by offering incentives such as discounts on future purchases or exclusive promotions. Displaying positive reviews helps establish trust and encourages potential buyers to take the leap and make a purchase.
Utilize Social Media and Links
In today's digital landscape, social media platforms play a crucial role in promoting businesses. Create accounts on popular platforms such as Instagram, Facebook, or Pinterest to showcase your jewelry pieces and engage with potential customers. Share captivating images, behind-the-scenes glimpses of your creative process, and exclusive offers to generate interest.
Include links to your social media profiles on your website. This allows visitors to easily navigate to your social pages and follow you for updates on new collections or limited-edition releases.
By following these steps and focusing on building a professional website that showcases your jewelry products effectively, you can establish a strong online presence for your permanent jewelry business. Remember to continually update your website with fresh content and engage with customers through various channels to foster lasting relationships.
Creating an Effective Marketing Strategy for Your Jewelry Business
Determine target marketing channels based on your audience demographics
To effectively market your jewelry business, it's crucial to identify the most suitable marketing channels based on your target audience demographics. Understanding who your customers are and where they spend their time will help you allocate your resources wisely and achieve the best results.
Start by researching and analyzing your target market to gather valuable insights. Consider factors such as age, gender, location, interests, and online behavior. Armed with this information, you can make informed decisions about which marketing channels to prioritize.
For instance, if your research indicates that a significant portion of your target audience is active on social media platforms like Instagram or Facebook, then these should be top priorities for promoting your jewelry business. These platforms offer excellent opportunities to showcase stunning visuals of your products and engage with potential customers through comments, likes, and direct messages.
Investigate influencer collaborations or partnerships to expand reach within your niche market segment
Influencer collaborations have become increasingly popular as a powerful marketing tool in recent years. By partnering with influencers who have a strong presence in the jewelry or fashion industry, you can tap into their existing follower base and expand your reach within your niche market segment.
Look for influencers whose values align with those of your brand. Seek out individuals who have a genuine interest in jewelry or related topics and whose followers match the profile of your target audience. Collaborating with influencers allows you to leverage their influence and credibility while showcasing how well-suited your products are for their followers' tastes.
Consider offering free samples or exclusive discounts to influencers in exchange for featuring or reviewing them on their platforms. This strategy not only increases brand awareness but also builds trust among potential customers who value the opinions of these influencers.
Leverage email marketing campaigns to nurture customer relationships and drive repeat sales
Email marketing remains one of the most effective ways to nurture customer relationships and encourage repeat sales. Collecting email addresses from your customers and website visitors can build a valuable database of potential leads and loyal customers.
Craft engaging and personalized email campaigns that offer value to your recipients. Provide useful tips on jewelry care, share stories behind your designs, or offer exclusive promotions and discounts. Tailor your content based on the preferences and behaviors of different segments within your target audience.
Segmentation is key to ensure that each recipient receives relevant content. For example, you could create separate email lists for new customers, existing customers, or those who have shown interest in specific product categories. This targeted approach increases the likelihood of conversions and customer satisfaction.
Utilize search engine optimization techniques to improve your website's visibility on Google
To attract organic traffic to your jewelry business website, it's crucial to optimize it for search engines like Google. Implementing effective search engine optimization (SEO) techniques will improve your website's visibility in search results, driving more potential customers to discover your products.
Start by conducting keyword research to identify relevant terms that people use when searching for jewelry online. Incorporate these keywords naturally into your website's content, including product descriptions, blog posts, and landing pages.
Optimize other elements such as meta tags (title tags and meta descriptions), headings (H1-H6), image alt text, and URL structure. Ensure that these elements accurately reflect the content on each page while incorporating relevant keywords where appropriate.
Training and Certification for Your Jewelry Venture
If you're looking to start a permanent jewelry business, it's crucial to invest in proper training and certification. This will not only enhance your skills but also add credibility to your venture. Here are some essential steps you can take to gain the necessary knowledge and expertise.
Research Reputable Jewelry Schools or Training Programs
Begin by researching reputable jewelry schools or training programs that offer certification courses. Look for institutions with a strong reputation in the industry and positive reviews from past students. These programs will provide you with comprehensive training on various aspects of jewelry making, including design, metalworking, gemology, and more.
Gain Hands-On Experience Through Apprenticeships or Internships
While formal education is important, gaining hands-on experience is equally valuable. Consider seeking apprenticeships or internships with established jewelers who can mentor you and provide practical guidance. This real-world experience will allow you to apply the skills learned in training programs and develop a deeper understanding of the craft.
Attend Industry Conferences, Workshops, or Trade Shows
To stay updated with the latest trends and techniques in the jewelry industry, attending industry conferences, workshops, or trade shows is essential. These events offer opportunities to learn from experts, network with other professionals, and discover new tools, materials, and technologies. By staying informed about emerging trends, you can ensure that your jewelry pieces remain relevant in the market.
Obtain Necessary Certifications
Obtaining relevant certifications can significantly boost your credibility as a jewelry professional. Consider pursuing certifications such as gemology or metalworking to showcase your expertise in specific areas of the craft. These certifications demonstrate your commitment to continuous learning and mastery of specialized skills.
In addition to these certifications, it's also important to obtain any required licenses for operating a permanent jewelry business in your area. Familiarize yourself with local regulations regarding licensing requirements for jewelers.
Continuously Hone Your Skills and Expand Your Knowledge
The world of jewelry making is constantly evolving, with new techniques and materials being introduced regularly. To stay ahead of the curve, make a commitment to continuously hone your skills and expand your knowledge. This can be achieved through self-study, online courses, or advanced training programs.
Consider investing in a starter kit that includes essential tools for jewelry making, such as pliers, files, jump rings, and more. Having the right tools will enable you to create high-quality pieces efficiently.
Finally, establish relationships with reliable vendors who can supply you with quality materials such as gold, gemstones, and findings. Building strong partnerships with vendors ensures a steady supply chain for your business.
By following these steps and investing in training and certification programs, you'll be well-equipped to start your permanent jewelry business. Remember that continuous learning is key to staying relevant in this dynamic industry. So keep exploring new techniques, attending workshops, and refining your skills to thrive in the world of jewelry making!
Developing a Comprehensive Business Plan
Now that you have gained a deeper understanding of the process and mechanics of permanent jewelry, it's time to develop a comprehensive business plan. This plan will serve as your roadmap to success and help you stay focused on your goals. Start by outlining your mission statement, target market, and competitive analysis. Then, dive into the financial aspects of your business, including budgeting, pricing strategies, and sales projections. Don't forget to include marketing strategies and plans for growth in your business plan as well. Remember, a well-thought-out business plan is crucial for attracting investors and securing funding for your jewelry venture.
Take action now! Grab a pen and paper or open up a document on your computer, and start brainstorming ideas for each section of your business plan. Be thorough and detailed in your research to ensure that you have covered all bases. Once you have completed your business plan, review it regularly to make adjustments as needed. With a solid plan in place, you'll be well-equipped to navigate the challenges of starting a permanent jewelry business successfully.
FAQs
What legal requirements do I need to fulfill before starting my jewelry business?
Before launching your jewelry business, there are several legal requirements you must fulfill. These may include obtaining licenses and permits specific to operating a retail or online store, registering your business with the appropriate government agencies, such as the IRS or local tax authorities, and complying with any zoning or building regulations in your area.
How can I determine the right pricing strategy for my jewelry products?
Determining the right pricing strategy for your jewelry products requires careful consideration of factors such as material costs, labor expenses, overheads (rent/utilities), desired profit margins, competitor prices in the market segment you're targeting, and perceived value by customers. Conducting market research and analyzing customer preferences can help guide you in setting competitive yet profitable prices.
How should I handle inventory management for my jewelry business?
Effective inventory management is crucial to the success of your jewelry business. Start by tracking your inventory regularly, using software or spreadsheets to monitor stock levels, sales trends, and popular products. Implement a system for reordering materials and supplies to avoid stockouts and delays in fulfilling customer orders. Consider investing in secure storage solutions to protect your valuable jewelry pieces from theft or damage.
What marketing strategies can I use to promote my jewelry business?
To promote your jewelry business effectively, consider a multi-channel marketing approach. This may include creating a professional website with high-quality product images and engaging descriptions, utilizing social media platforms to showcase your products and engage with potential customers, collaborating with influencers or bloggers in the fashion industry, participating in local events or craft fairs, and leveraging email marketing campaigns to stay connected with your audience.
How can I build trust with potential customers for my jewelry business?
Building trust with potential customers is essential for any successful jewelry business. You can achieve this by showcasing the quality of your craftsmanship through high-resolution product images and detailed descriptions on your website. Encourage customer reviews and testimonials to demonstrate positive experiences from previous buyers. Offering secure payment options and transparent refund policies will also help establish credibility and confidence among potential customers.