How to Start a Laundromat Business with No Money: Ultimate Guide
Did you know that the laundromat industry is a thriving business with immense potential for profitability? Starting a new laundromat business may seem daunting, especially when funds are limited. However, there are low-cost strategies that can help you kickstart your venture without breaking the bank. Let's see how to start a laundromat business with no money.
It's crucial to explore innovative approaches and think outside the box. You can overcome the initial financial hurdles by identifying solutions and leveraging available resources.
Starting a laundromat business offers numerous benefits, such as steady cash flow and minimal inventory requirements. However, it also comes with its fair share of challenges. Limited funds mean finding creative ways to acquire washing machines, laundry detergent, and other essentials while keeping expenses in check.
We'll discuss practical tips and strategies to help you navigate through this exciting yet challenging journey. So let's dive in!
Industry Size and Growth: Trends in the laundromat business
Laundromats have been a staple in communities for decades, providing a convenient place for people to do their laundry. But what is the current state of the laundromat industry? Let's take a closer look at the industry size and growth, as well as the trends that are shaping the future of laundromats.
Industry Size
The laundromat industry is a thriving one, with a significant market size. According to recent data, there are over 35,000 laundromats in the United States alone, generating billions of dollars in revenue each year. This indicates a strong demand for laundromat services, making it a lucrative business opportunity for entrepreneurs.
Growth Trends
The laundromat industry has experienced steady growth over the years, and there are several key trends contributing to this expansion:
Technological Advancements: Laundromats are embracing technology to enhance the customer experience. From mobile payment options to app-based laundry management systems, these innovations make doing laundry more convenient and efficient for customers.
Eco-Friendly Practices: Many laundromats are adopting eco-friendly practices to attract environmentally conscious customers. This includes using energy-efficient machines, offering eco-friendly detergents, and implementing water-saving measures.
Value-Added Services: Laundromats are no longer just places to wash and dry clothes. Many are now offering additional services such as dry cleaning, alterations, and even coffee shops. These value-added services help laundromats differentiate themselves and attract a wider customer base.
Targeted Marketing: Laundromats are becoming more strategic in their marketing efforts. They are targeting specific demographics, such as busy professionals or college students, and tailoring their services and promotions to appeal to these groups.
Community Engagement: Laundromats are increasingly focusing on building a sense of community. They host events, offer loyalty programs, and create spaces where customers can socialize while waiting for their laundry. This creates a more welcoming and enjoyable experience for customers.
Despite the rise of online shopping and delivery services, the laundromat industry continues to thrive. Its convenience, affordability, and range of services make it an essential part of many communities. With the right strategies and innovations, laundromat owners can tap into this growing market and build successful businesses.
Researching funding options for your laundromat business
Starting a laundromat business with no money may seem like a daunting task, but with thorough research and exploration of various funding options, it is possible to turn your dream into a reality.
Investigating government grants and loans available for small businesses
Government grants and loans can be an excellent source of funding for aspiring entrepreneurs. Many governments offer financial assistance programs specifically designed to support small businesses in various industries, including the laundry industry. To tap into these opportunities, you need to conduct thorough research on the grants and loans available in your region.
Here are some steps you can take:
Visit the official government websites: Government agencies often provide detailed information about their grant programs on their websites. Look for sections related to small business funding or entrepreneurship.
Consult with local Small Business Development Centers (SBDCs): SBDCs are organizations that offer free or low-cost consulting services to help entrepreneurs start and grow their businesses. They can guide you through the process of finding government grants and loans suitable for your laundromat business.
Network with other entrepreneurs: Attend local business events or join entrepreneur groups where you can connect with experienced individuals who have successfully obtained government funding. They may share valuable insights and tips on how to navigate the application process.
Exploring crowdfunding platforms as an alternative funding source
Crowdfunding has gained immense popularity as a viable option for raising capital without relying on traditional sources such as banks or investors. By leveraging online platforms dedicated to crowdfunding campaigns, you can reach out to a large audience who may be interested in supporting your laundromat venture.
Deciding on the right business model and location for your laundromat
Deciding on the right business model and location is crucial.
Assessing different types of laundromat models
Before diving into the details of your business plan, it's essential to consider various laundromat models available in the market. Two popular options are self-service and drop-off services. Let's take a closer look at each:
Self-service: This model allows customers to use coin-operated machines or prepaid cards to wash and dry their clothes independently. It requires minimal staff involvement, making it a cost-effective choice for those starting with limited funds.
Drop-off services: With this option, customers bring their laundry to your facility, where you or your staff handle washing, drying, folding, and sometimes even delivery. Although it demands more resources initially due to staffing requirements, drop-off services can generate higher profits.
By carefully considering these models based on your budget constraints and personal preferences, you can choose the one that aligns best with your goals.
Evaluating target demographics to determine the ideal location
Once you have determined which type of laundromat model suits you best, it's time to focus on finding the perfect location for your business. Consider the following factors when evaluating potential areas:
Evaluating target demographics to determine the ideal location for your Laundromat business
When it comes to finding the perfect location for your Laundromat business, evaluating the target demographics is crucial. Understanding the people who will be using your services can help you determine the ideal location that will attract the right customers. Here are some factors to consider when evaluating potential areas
Determine the population density: Look for areas with a high population density as this indicates a higher demand for laundromat services. Areas with a dense population are more likely to attract a larger customer base.
Consider income levels: Evaluate the income levels of the target demographic. Areas with higher income levels may be willing to pay more for premium services, while areas with lower income levels may require more affordable options.
Proximity to residential areas: Look for locations that are conveniently located near residential areas. This makes it easier for customers to access your laundromat, increasing the likelihood of repeat business.
Accessibility: Ensure that the location is easily accessible for customers. Look for areas with good transportation links and ample parking space. Easy accessibility will attract more customers and make it more convenient for them to use your services.
Evaluate the competition: Assess the level of competition in the area. While some competition can be healthy and indicate a demand for laundromat services, too much competition can make it difficult to stand out. Consider collaborating with nearby businesses to create a mutually beneficial partnership.
By considering these factors and evaluating the target demographics, you can determine the ideal location for your Laundromat business. Remember, it's important to conduct thorough research and analysis to ensure the success of your business.
Starting a Laundry Business from Home: Location and Budget Considerations
Starting a laundromat business from home can be an excellent opportunity for entrepreneurs looking to enter the laundry industry without a significant upfront investment. However, before diving into this venture, it is crucial to consider certain factors such as space requirements, setup costs, and legal regulations.
Identifying space requirements within your home to accommodate laundry equipment
The first step in starting a home-based laundry business is assessing the available space within your residence. Look for an area that can accommodate the necessary laundry equipment while still allowing for ease of movement. A spare room, basement, or garage could be suitable options.
Consider the size and quantity of machines you plan to install. Depending on the scale of your operations, you may require commercial-grade washers and dryers or smaller residential units. Take accurate measurements to ensure that the chosen space can comfortably house the required equipment.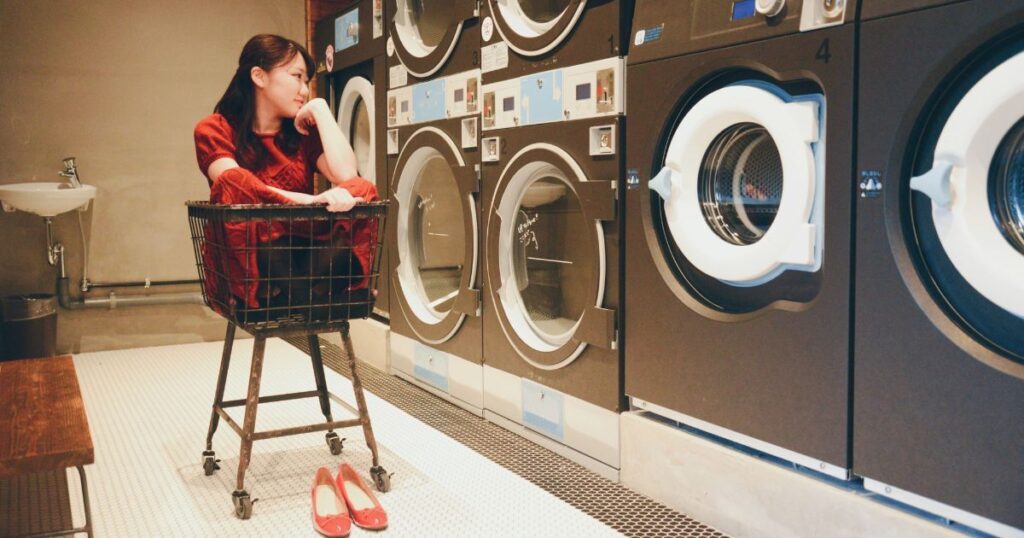 Calculating initial setup costs, including machines, utilities, and renovations if needed
While starting a laundromat business from home can save money on rent expenses typically associated with commercial spaces, there are still initial setup costs to consider. These include purchasing washing machines and dryers along with any necessary renovations or modifications to create an efficient laundry area.
Research different suppliers and compare prices to find affordable yet reliable laundry equipment that suits your needs. Factor in utility costs such as water usage and electricity consumption when calculating your budget.
In terms of renovations, assess whether any modifications are required in the chosen space. This could involve installing proper ventilation systems or ensuring adequate plumbing connections for water supply and drainage.
Determining Load Capacity, Employee Requirements, and Machine Quantity for Your Laundromat
Determining the optimal load capacity, employee requirements, and machine quantity for your laundromat is crucial to ensure smooth operations and customer satisfaction. By analyzing customer demand, assessing labor needs, and calculating the number of machines required, you can effectively run your laundromat business without any initial investment.
Analyzing customer demand to determine optimal load capacity per machine
To start a successful laundromat business with no money, it's essential to analyze customer demand in your target area. This analysis will help you determine the optimal load capacity per machine. Consider factors such as population density, nearby residential areas or college campuses, and local demographics.
By understanding your potential customers' laundry habits and preferences, you can estimate the average load size they would bring. This information will allow you to select washing machines that cater to their needs appropriately. For example:
If your analysis indicates a large number of families in the area with heavy laundry loads, opt for commercial-grade washing machines with a higher load capacity.
On the other hand, if there is a significant student population or individuals living alone who prefer smaller loads more frequently, consider investing in mid-range or compact washing machines.
Assessing labor needs based on anticipated workload during peak hours
Determining labor requirements is crucial for managing your laundromat efficiently. During peak hours when customers flock to do their laundry quickly, having adequate staff ensures smooth operations and minimizes waiting times.
Assess the anticipated workload during these busy periods by considering factors such as:
The number of customers expected during peak hours
Average time spent by each customer at the laundromat
Additional services offered (e.g. folding clothes or selling laundry detergent)
Selecting the appropriate equipment and determining load capacity
Selecting the right equipment is crucial when starting a laundromat business with no money. Evaluating different brands and models of washers and dryers based on cost-effectiveness is the first step in this process. Consider factors such as initial purchase cost, maintenance expenses, energy efficiency, and durability.
To ensure you make an informed decision, create a breakdown of ment options. Compare prices, features, and warranties offered by different manufacturers. Look for reputable brands that offer reliable products at affordable prices.
Once you have narrowed down your choices, it's important to determine the load capacity per machine. This will depend on the average laundry size in your target market. Conduct market research or survey potential customers to understand their laundry needs better.
Consider offering a variety of machine sizes to cater to different customer preferences. For example:
Small-load machines (10-20 pounds): Ideal for individuals or small families.
Medium-load machines (30-40 pounds): Suitable for larger households or those with bulkier items like blankets or comforters.
Large-load machines (50+ pounds): Designed for commercial use or customers who prefer doing all their laundry in one go.
Ensure compatibility between your selected machines in terms of features and functions. Customers appreciate convenience when using laundromats, so having consistent settings across all your machines can improve user experience.
Consider investing in modern equipment that offers advanced features like touch screens, programmable cycles, and payment systems compatible with digital wallets or cards.
You need to also invest in a variety of Detergents for different fabrics and customer preferences.
Types of Services to Offer in Your Laundromat Business
When starting a laundromat business with no money, it's essential to consider the types of services you can offer to attract customers and generate revenue. By providing a range of options, you can cater to different customer preferences and increase your chances of success. Here are some key services to consider:
Offering self-service options with coin-operated machines
One popular option for laundromat services is providing self-service facilities equipped with coin-operated machines. This allows customers to handle their laundry needs independently, making it convenient for those who prefer a DIY approach or have busy schedules. With this service, customers can bring their own detergent and choose the appropriate machine size for their load.
To enhance the self-service experience, make sure your facility has an adequate number of well-maintained machines that are easy to operate. Regularly inspect and clean the machines to ensure they are functioning properly. Provide clear instructions on how to use the equipment and display signage indicating pricing per machine size.
Providing additional services such as drop-off laundry or dry cleaning
To expand your customer base and boost revenue potential, consider offering additional services like drop-off laundry or dry cleaning. Some people may not have the time or inclination to do their own laundry but still require clean clothes. By offering these complementary services, you can cater to such customers while generating extra income.
With drop-off laundry service, customers simply need to bring in their dirty clothes, specify any special instructions (such as temperature settings or stain removal), and collect them at a later agreed-upon time when they are clean and ready for pick-up. Dry cleaning involves specialized cleaning techniques suitable for delicate fabrics that cannot be washed using traditional methods.
Obtaining permits, licenses, and insurance for your laundromat business
Starting a laundromat business with no money may seem challenging, but with the right approach and thorough research, it is possible to navigate the process of obtaining permits, licenses, and insurance. Here are some key points to consider:
Researching local regulations to obtain necessary permits and licenses
Before launching your laundromat business, it is crucial to understand the local regulations and requirements for obtaining permits and licenses. Each jurisdiction may have different rules in place, so conducting thorough research is essential.
Start by contacting your local government offices or visiting their websites to gather information about the specific permits and licenses needed for a laundromat business.
Identify any zoning restrictions that may apply to your chosen location. Some areas might have limitations on commercial businesses operating in certain zones.
Determine if there are any additional requirements such as fire safety inspections or environmental health permits that need to be fulfilled.
Consider consulting with an attorney who specializes in small businesses or commercial real estate to ensure compliance with all legal obligations.
Securing liability insurance to protect against potential damages or accidents
Liability insurance is crucial for protecting both you and your customers from unforeseen events that can result in financial losses or legal issues. Here's what you need to know about securing liability insurance for your laundromat business:
Contact several insurance providers specializing in small businesses or commercial ventures to explore different coverage options.
Compare quotes and policies from multiple insurers before making a decision.
Look for comprehensive coverage that includes protection against property damage, personal injury claims, theft, vandalism, and other potential risks.
Securing Business Insurance for Your Laundromat
Starting a laundromat business with no money may seem like a daunting task, but with careful planning and resourcefulness, it is possible to turn your dream into reality. One important aspect of setting up your laundromat is securing the right business insurance.
Understanding the Importance of General Liability Insurance
General liability insurance is crucial for any business, including laundromats. It provides coverage in case someone gets injured on your premises or if there is property damage due to your business operations. This type of insurance can protect you from costly lawsuits and claims that could potentially bankrupt your business.
When obtaining general liability insurance for your laundromat, it's essential to research and find a reputable business insurance company that offers comprehensive coverage at an affordable price. Look for policies that include protection against slip-and-fall accidents and damage caused by malfunctioning equipment.
Exploring Options for Property Insurance
In addition to general liability insurance, you should also consider commercial property insurance. This type of coverage protects the physical assets of your laundromat, such as the building itself, equipment, and inventory.
When selecting commercial property insurance, make sure to accurately assess the value of your equipment and inventory. Consider any potential risks specific to running a laundromat, such as damage from water leaks or electrical issues. By having adequate property insurance in place, you can have peace of mind knowing that you are protected financially if unforeseen events occur.
Considering Additional Coverage Options
In addition to general liability and property insurance, there are some other types of insurance that you might want to think about for your laundromat business.
One of these is workers' compensation insurance. This type of insurance helps protect your employees if they get injured while working at your laundromat. It can help cover their medical expenses and provide them with some income if they need time off work to recover. It's important to have this insurance in case something unexpected happens and one of your employees gets hurt.
Another type of insurance that could be useful for your laundromat is equipment breakdown coverage. This insurance can help cover the cost of repairing or replacing any equipment that breaks down or gets damaged. As you can imagine, the machines in a laundromat are pretty important, so it's crucial to have this coverage in case something goes wrong. It can save you a lot of money and stress if a washing machine or dryer suddenly stops working and needs to be fixed or replaced.
Lastly, you might want to consider getting business interruption insurance. This type of insurance can provide you with some financial support if your laundromat has to temporarily close due to unforeseen circumstances, like a fire or a natural disaster. It can help cover your lost income during the closure and even assist with any ongoing expenses you may still have while your business is not operating. Having this coverage can give you peace of mind knowing that you won't be left struggling financially if something unexpected happens and forces your laundromat to close temporarily.
Remember, while general liability and property insurance are important, don't forget about these other types of coverage that can provide additional protection for your laundromat business. It's always better to be prepared for the unexpected, so make sure you consider all the different types of insurance that are available to you.
Creating an effective marketing strategy for your laundromat
To ensure the success of your laundromat business, it is crucial to develop a well-thought-out marketing strategy. By identifying target market segments and tailoring your marketing efforts accordingly, utilizing online platforms, social media, and local advertising, and implementing loyalty programs or referral incentives, you can effectively reach potential customers and attract repeat business.
Identifying target market segments and tailoring marketing efforts accordingly
Understanding your target market is essential for creating effective marketing strategies. Start by conducting thorough research to identify the demographics and preferences of potential customers in your area. This will help you tailor your messaging and promotions to resonate with their needs.
Consider segmenting your target market based on factors such as age groups, income levels, or lifestyle preferences. For example, if there are a significant number of college students in your area, you might focus on promoting the affordability and convenience of using your laundromat near campus.
Once you have identified these market segments, customize your marketing efforts to appeal to each group's specific needs. Craft compelling messages that highlight how your laundromat meets their unique requirements. Whether it's emphasizing speedy service for busy professionals or offering family-friendly amenities for parents with young children, aligning your marketing materials with the interests of different customer groups can significantly enhance their effectiveness.
Utilizing online platforms, social media, and local advertising to reach potential customers
In today's digital age, having a strong online presence is crucial for any business. Leverage various online platforms to promote your laundromat effectively. Create a professional website that showcases the features and benefits of choosing your facility over competitors'.
Maximizing profitability with cost-saving measures and efficient operations
Starting a laundromat business with no money may seem like a daunting task, but it is not impossible. By implementing cost-saving measures and efficient operations, you can maximize profitability and create a successful venture.
Implementing energy-efficient machines and practices to reduce utility costs
One of the significant expenses in running a laundromat business is the cost of utilities. To minimize these costs and increase your profit margin, it is essential to implement energy-efficient machines and practices. Consider investing in modern washers and dryers that are designed to consume less electricity and water while still providing excellent cleaning results.
Encourage your customers to adopt energy-saving habits by placing signs or offering incentives for using cold water instead of hot water for their laundry needs. This simple step can significantly reduce your utility bills over time.
Optimizing machine maintenance schedules to minimize downtime and repair expenses
Regular maintenance of your machines is crucial for keeping them in optimal condition. Implementing an effective maintenance schedule can minimize downtime due to unexpected breakdowns and reduce repair expenses.
Create a detailed plan outlining the frequency of maintenance tasks such as cleaning lint traps, inspecting hoses, and lubricating moving parts. This proactive approach will help identify potential issues before they escalate into costly repairs or machine failures.
Consider training your staff on basic troubleshooting techniques so that they can address minor problems promptly. This way, you can avoid unnecessary service calls from technicians, saving both time and money.
Streamlining processes through automation or outsourcing certain tasks
To further enhance efficiency in your laundromat business operations, consider streamlining processes through automation or outsourcing certain tasks.
Exploring Franchise Opportunities for Opening a Laundromat
Are you interested in starting a laundromat business but don't have the capital to invest? Don't worry, there are still options available to you. One avenue worth exploring is opening a laundromat franchise.
Going the franchise route has several advantages. First and foremost, opting for a laundromat franchise provides you with instant brand recognition. Customers are more likely to trust and choose a well-known franchise over an unknown independent business. This built-in reputation can help attract customers right from the start.
Furthermore, many laundromat franchises offer comprehensive training programs for their franchisees. These programs ensure that you receive all the necessary knowledge and skills to run a successful operation. From customer service techniques to equipment maintenance, these training sessions cover various aspects of running a laundromat effectively.
Another benefit of joining a franchise is ongoing support. Franchisors often provide continuous assistance and guidance throughout your journey as a franchisee. This support system can prove invaluable when faced with challenges or uncertainties along the way.
Now let's dive into some key steps involved in exploring laundromat franchises:
Research established laundromat franchises: Start by researching different franchising opportunities available in the market. Look for franchises that specifically cater to aspiring laundromat owners and offer low-cost entry options.
Evaluate franchise benefits: Once you have shortlisted potential franchises, evaluate the benefits they offer.
Achieving success in your laundromat business with limited funds
Starting a successful laundromat business may seem daunting, especially when you have limited funds. However, with the right strategies and a little creativity, you can overcome financial obstacles and build a thriving business.
Emphasizing the importance of exceptional customer service in building a loyal customer base
Exceptional customer service is crucial for any successful laundromat. When customers feel valued and well taken care of, they are more likely to become loyal patrons and spread positive word-of-mouth about your business. Here are some tips to provide outstanding customer service:
Train your staff: Ensure that your employees understand the importance of friendly and efficient service. Teach them how to handle customer inquiries, resolve issues promptly, and maintain a clean and welcoming environment.
Offer convenient amenities: Install comfortable seating areas, free Wi-Fi access, vending machines with snacks or drinks, and even play areas for children if space allows. These extras will enhance the overall experience for your customers.
Implement loyalty programs: Reward frequent customers with discounts or special offers to encourage their continued patronage.
Leveraging partnerships with local businesses for cross-promotion opportunities
Building partnerships with local businesses can be mutually beneficial by expanding your reach within the community while keeping costs low.
Collaborate with nearby cafes or restaurants: Offer exclusive discounts or promotions to their customers while they wait for their laundry to finish.
Running a Laundromat Business with No Money: Solo Operation and Employee Needs
Running a laundromat business as a sole proprietorship is possible and can be a rewarding venture. While it may seem daunting to handle all aspects of the business independently, with proper time management and multitasking you can successfully operate a small-scale laundromat without additional employees.
Embracing the Role of a Sole Proprietor
As the sole proprietor of your laundromat business, you will have complete control over every aspect of its operation. This means that you will be responsible for managing everything from customer service to equipment maintenance. While this may sound overwhelming at first, being in charge allows you to make decisions quickly and efficiently without having to consult or rely on others.
To effectively manage your time as a solo operator, consider implementing these strategies:
Create a Schedule: Establishing a structured daily routine will help you prioritize tasks and ensure that everything runs smoothly.
Maximize Efficiency: Look for ways to streamline processes and minimize wasted time. For example, grouping similar tasks together or utilizing technology such as automated payment systems can significantly improve efficiency.
Outsource Non-Essential Tasks: Consider delegating non-essential responsibilities like bookkeeping or marketing to freelance professionals or virtual assistants.
Conclusion: Starting a Laundromat Business with No Money
Congratulations! You've reached the end of our guide on starting a laundromat business with no money. By now, you have learned about researching funding options, deciding on the right business model and location, selecting equipment, obtaining permits and licenses, creating a marketing strategy, maximizing profitability, exploring franchise opportunities, and running a laundromat business with limited funds. Armed with this knowledge and determination, you are well-equipped to embark on your entrepreneurial journey.
Now it's time to take action! Start by putting together a solid business plan that incorporates all the information you've gathered. Seek out potential investors or consider alternative funding options like small business grants or loans. Don't be afraid to start small and grow gradually – Rome wasn't built in a day! Remember to stay focused on providing excellent service and building strong relationships with your customers. With perseverance and dedication, you can turn your dream of owning a successful laundromat business into reality.
FAQs
Can I start a laundromat business without any initial investment?
Yes, it is possible to start a laundromat business without any initial investment by exploring various funding options such as grants or loans specifically designed for small businesses. You can consider partnering with investors who are willing to provide the necessary capital in exchange for equity in your business.
How important is choosing the right location for my laundromat?
Choosing the right location is crucial for the success of your laundromat business. Look for areas with high foot traffic or dense residential populations where people may not have access to laundry facilities at home. Consider factors like parking availability and competition in the area when selecting your location.
What equipment do I need to start a laundromat?
To start a laundromat, you will need commercial-grade washers and dryers that can handle a significant load capacity. You may want to invest in folding tables, seating areas, vending machines for laundry supplies, and security systems to ensure the safety of your customers and their belongings.
How can I attract customers to my laundromat?
Creating an effective marketing strategy is key to attracting customers to your laundromat. Utilize both online and offline channels such as social media platforms, local advertising, and partnerships with nearby businesses. Offer promotions or loyalty programs to incentivize customers to choose your laundromat over competitors.
Is it possible to run a successful laundromat business on my own?
While running a laundromat business on your own is possible, it can be challenging as there are various tasks involved such as machine maintenance, customer service, cleaning, and bookkeeping.