How to Start a HVAC Business [Startup Guide]
Imagine this: you've always had a passion for tinkering with heating, ventilation, and air conditioning systems. You find yourself mesmerized by the intricate mechanisms that keep spaces comfortable and cozy. It's not just a job; it's an art form. And now, you're ready to turn your passion into a thriving business?
Let's see how to start a HVAC business.
Starting an HVAC business can be an exciting and rewarding venture. But before you dive in headfirst, it's crucial to understand the basics of this industry and the opportunities and challenges that lie ahead. Aspiring HVAC business owners like you need to grasp the ins and outs of the HVAC sector, from choosing the right business structure to navigating through market demands.
We'll delve into essential considerations for setting up a new business in this field, provide insights on what it takes to succeed as an HVAC business owner, and share valuable tips for overcoming hurdles along the way.
So let's get started on your path towards building a successful HVAC business!
Industry Size and Growth: Trends in the HVAC business
The HVAC industry has been experiencing significant growth in recent years, with the increasing demand for heating, ventilation, and air conditioning services. Let's delve into the industry size of the HVAC business, explore some insightful statistics, and discuss the latest trends shaping HVAC Business sector.
Growing Market Potential
The market potential for HVAC businesses is expanding rapidly as more residential and commercial buildings require efficient climate control systems. According to industry reports, the global HVAC market is projected to reach a value of $251.6 billion by 2027, growing at a CAGR of 6.1% from 2020 to 2027. This indicates a substantial opportunity for entrepreneurs looking to start their own HVAC businesses.
Increasing Demand for Energy Efficiency
One notable trend within the HVAC industry is the growing emphasis on energy-efficient solutions. As environmental concerns rise and energy costs soar, customers are seeking eco-friendly alternatives that reduce their carbon footprint while saving money on utility bills. This shift in consumer preferences has led to an increased demand for energy-efficient heating and cooling systems.
To capitalize on this trend, aspiring HVAC business owners should consider offering products and services that promote energy efficiency. These may include installing smart thermostats, providing insulation services, or recommending high-efficiency equipment to clients.
Researching State Licensing Requirements for HVAC
Starting a HVAC business requires thorough research and understanding of the state licensing requirements. To ensure you operate legally and avoid any unnecessary complications, it is crucial to determine the specific licensing requirements in your state.
Determine the Specific Licensing Requirements for HVAC Businesses in Your State
Each state has its own set of regulations. It is essential to familiarize yourself with these requirements before starting your venture. Begin by visiting the official website of your state's licensing board or regulatory agency responsible for overseeing HVAC businesses.
Researching online will provide you with valuable information regarding the necessary licenses, permits, and certifications needed to operate legally. Take note of any prerequisites or qualifications required to obtain these licenses, such as educational background or work experience.
Research Any Additional Certifications or Qualifications Needed to Operate Legally
In addition to obtaining a license, some states may require additional certifications or qualifications for HVAC professionals. These certifications demonstrate your expertise and commitment to providing high-quality services. Research whether your state mandates any of these additional credentials:
EPA 608 Certification: This certification ensures that you are knowledgeable about handling refrigerants safely.
NATE Certification: The North American Technician Excellence (NATE) certification validates your skills in installing and maintaining HVAC systems.
Obtaining Necessary Licenses, Certifications, and Permits
Starting an HVAC business requires obtaining the necessary licenses, certifications, and permits to operate legally. This process involves gathering required documents, completing training programs or exams, and applying for relevant permits. Here's a step-by-step guide on how to navigate this crucial aspect of starting your HVAC business:
Gather all required documents and information for license applications.
To begin the licensing process, you'll need to gather specific documents and information according to local regulations. These requirements may vary depending on your location, so it's essential to research the specific licensing requirements in your area. Some standard documents needed include:
Proof of identity (such as a driver's license or passport)
Social security number or tax identification number
Proof of legal status (if applicable)
Business formation documents (if operating as a corporation or LLC)
Insurance coverage details
Having these documents readily available will streamline the application process and prevent delays.
Complete necessary training programs or exams to obtain certifications.
When starting an HVAC business, it's important to consider the certifications that will not only enhance your credibility but also ensure that you are equipped with the necessary skills and knowledge to provide top-notch service to your clients.
One of the certifications you should consider is the EPA 608 certification. This certification is required by the Environmental Protection Agency and it demonstrates your ability to handle refrigerants safely and responsibly. It involves passing an exam that covers topics such as leak detection, recovery, recycling, and disposal. By obtaining this certification, you can assure your customers that you are well-versed in environmental regulations and are committed to protecting the environment.
Another certification to consider is the NATE certification. NATE stands for North American Technician Excellence and it is widely recognized as the leading certification program for HVAC technicians. By becoming NATE certified, you demonstrate your expertise in areas such as installation, maintenance, and repair of HVAC systems. This certification requires passing a series of exams that test your knowledge and practical skills. With a NATE certification under your belt, you can confidently market yourself as a highly skilled professional who can handle any HVAC challenge that comes your way.
In addition to these certifications, it's also worth considering obtaining a contractor's license. While requirements may vary depending on your location, having a contractor's license can give you a competitive edge in the HVAC industry. It shows potential clients that you have met certain standards and regulations set by your local government or licensing board. The process of obtaining a contractor's license typically involves meeting specific experience requirements, passing a trade exam, and providing proof of insurance.
By going through this process, you demonstrate your commitment to professionalism and quality workmanship.
Finally, don't overlook the importance of ongoing education and training in the HVAC field. Technology and industry standards are constantly evolving, so staying up-to-date with the latest advancements is crucial for success. Consider attending workshops, seminars, or online courses to expand your knowledge and skills.
Evaluating Startup Costs for an HVAC Business
Starting your own HVAC business can be an exciting venture, but before you dive in, it's crucial to evaluate the startup costs involved. By carefully considering all the expenses and creating a realistic budget plan, you can set yourself up for success from the beginning.
Calculate Initial Expenses
To get your HVAC business off the ground, you'll need to account for various initial expenses. These may include licensing fees, insurance premiums, equipment purchases, marketing materials, and more. It's essential to research and understand the specific requirements and costs associated with obtaining licenses and permits in your area. Consider the type of insurance coverage needed to protect your business against potential risks.
Make a comprehensive list of all the tools and machinery necessary for your HVAC services. Research prices from different suppliers or manufacturers to ensure you're getting the best value for your money. Consider both new and used options based on their condition and affordability.
Estimate Ongoing Costs
In addition to initial expenses, it's vital to estimate ongoing costs that will be incurred as part of running your HVAC business. These expenses typically include rent or mortgage payments if you have a physical location for your operations.
Understanding Insurance Requirements for Your HVAC Business
Starting an HVAC business requires careful planning and consideration of various factors, including insurance coverage. As a contractor in the heating, ventilation, and air conditioning industry, it's crucial to understand the specific insurance requirements that apply to your business. By identifying the types of coverage needed, determining liability limits, and consulting with specialized insurance providers, you can ensure that your HVAC business is adequately protected.
Types of Insurance Coverage Needed for Your HVAC Business
To safeguard your HVAC business from potential risks and liabilities, several types of insurance coverage are essential. These include:
General Liability Insurance: This type of insurance provides protection against third-party claims for bodily injury or property damage caused by your business operations. It covers legal fees, medical expenses, and settlements or judgments if you're found liable.
Commercial Property Insurance: This coverage protects your physical assets such as tools, equipment, office space, and inventory from perils like fire, theft, vandalism, or natural disasters.
Workers' Compensation Insurance: If you have employees working for your HVAC business, workers' compensation insurance is typically required by law. It provides benefits to employees who suffer work-related injuries or illnesses and covers medical expenses and lost wages.
Creating a Comprehensive HVAC Business Plan
Starting a HVAC business requires careful planning and strategizing to ensure long-term success. One of the crucial steps in this process is creating a comprehensive HVAC business plan. A well-crafted plan will serve as your roadmap, guiding you through the various aspects of your business and helping you secure funding if needed.
Develop a detailed business plan outlining goals, strategies, and financial projections.
Your HVAC business plan should begin with a clear outline of your goals and objectives. What do you hope to achieve with your business? Are you targeting specific revenue milestones or looking to expand into new markets? Clearly defining your goals will provide direction for all other aspects of your plan.
Next, outline the strategies you will employ to achieve these goals. Consider factors such as marketing, pricing, customer acquisition, and operational efficiency. For example, you may decide to focus on providing exceptional customer service or differentiate yourself by offering eco-friendly HVAC solutions.
Financial projections are another essential component of your business plan. Estimate your startup costs, including equipment purchases, licensing fees, insurance premiums, and initial marketing expenses. Project your expected revenues and expenses for at least the first three years of operation. This will help you determine whether your business is financially viable and identify potential areas for improvement.
Include market analysis, target audience identification, and competitive analysis in your plan.
Hiring Skilled Technicians and Customer Service Representatives
Hiring the right technicians and customer service representatives is crucial for the success of your HVAC business. These individuals will be the face of your company, interacting with potential customers and providing essential services to existing clients. To ensure a positive experience for everyone involved, it's important to focus on hiring skilled technicians with relevant experience, certifications, and strong problem-solving skills. Hiring customer service representatives who can provide exceptional support to clients will help elevate your company's reputation in the industry.
Prioritize candidates who have previous experience in the HVAC field. Look for individuals who possess relevant certifications such as NATE (North American Technician Excellence) or EPA (Environmental Protection Agency) certifications. These credentials demonstrate their expertise and commitment to quality work. Strong problem-solving skills are also essential as technicians often encounter complex issues that require quick thinking and effective solutions.
In addition to technical expertise, consider candidates' interpersonal skills when hiring technicians. Since they will be working directly with customers, it's important that they have good communication abilities and a friendly demeanor. Technicians who can explain repair services clearly and answer any questions customers may have will leave a lasting positive impression.
Similarly, when hiring customer service representatives, prioritize candidates who excel at providing exceptional support. Look for individuals who are patient, empathetic, and skilled at handling difficult situations.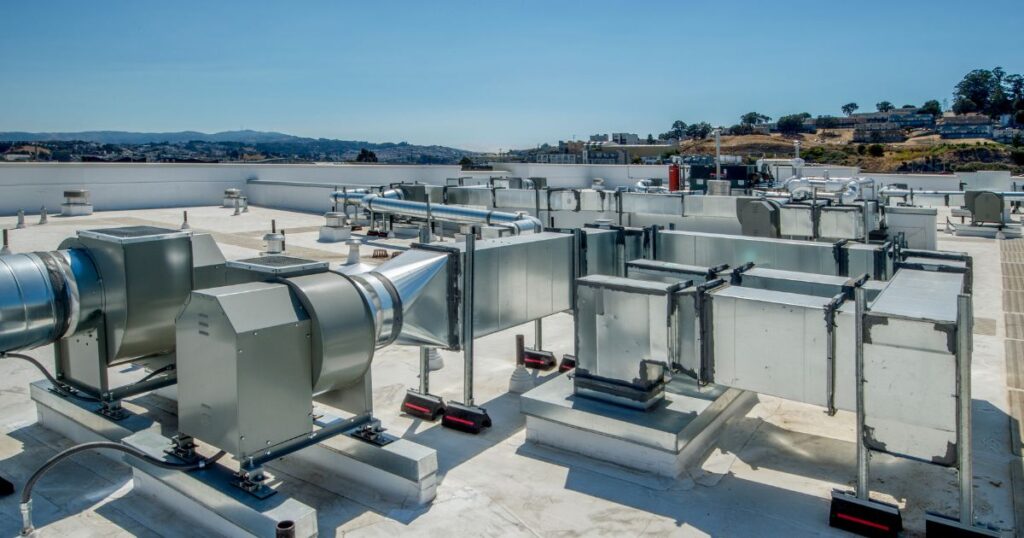 Purchasing Tools & Equipment Insurance
Protecting your investment is crucial when starting an HVAC business, and one essential aspect of this is obtaining insurance coverage for your tools and equipment. Accidents happen, and having the right insurance in place can provide you with peace of mind knowing that you are financially protected in the event of damage or loss.
There are a few key considerations to keep in mind. First and foremost, it's important to research insurance providers that offer comprehensive coverage at competitive rates. Take the time to compare different options and gather quotes from multiple companies to ensure you're getting the best deal.
Once you have a list of potential insurance providers, review their policy terms carefully. Look into factors such as deductibles and coverage limits. A deductible is the amount you'll need to pay out of pocket before your insurance kicks in, so make sure it aligns with your budget. Consider the coverage limits – these determine how much the insurance company will reimburse you for property damage or other covered incidents.
Business insurance typically consists of two main components: general liability and property damage coverage. General liability protects against claims made by third parties for bodily injury or property damage caused by your business operations. Property damage coverage specifically safeguards your tools and equipment against theft, vandalism, fire, or other types of loss.
Deciding on HVAC Services to Offer
When starting an HVAC business, one of the crucial decisions you need to make is determining the range of services you will provide. This decision will shape your business model and set the foundation for success. Here are some key points to consider when deciding on the HVAC services to offer:
Determine the range of services you will provide
To begin, evaluate the various aspects of HVAC services and decide which ones align with your expertise and resources. Common HVAC services include installation, repair, maintenance, and system replacement. By offering a comprehensive range of services, you can cater to a wider customer base and increase your revenue streams.
Consider specializing in specific areas or offering niche services
While providing a broad range of HVAC services can be advantageous, it may also be beneficial to specialize in specific areas or offer niche services. This approach allows you to differentiate your business from competitors and target a specific market segment. For example, you could focus on commercial HVAC systems or specialize in energy-efficient solutions for residential customers.
Conduct market research to identify demand for certain services
Before finalizing the list of HVAC services you will offer, conduct thorough market research in your target area. Identify the demand for specific services by analyzing customer needs and preferences. This information will help you tailor your offerings according to local requirements and maximize profitability.
Utilizing the Best HVAC Software for Business Growth
In today's competitive business landscape, it is crucial for HVAC companies to leverage technology to streamline operations and drive growth. One of the key tools that can significantly contribute to this objective is HVAC software. By adopting the right management software tailored specifically for HVAC businesses, you can enhance efficiency, improve customer service, and ultimately boost your bottom line.
When exploring HVAC software options, it's important to consider features that align with your business needs. Look for solutions that offer comprehensive scheduling capabilities, allowing you to efficiently manage appointments and allocate resources. With such software in place, you can ensure optimal utilization of your workforce while minimizing scheduling conflicts.
Another essential feature to look out for is inventory management functionality. This allows you to keep track of your supplies and equipment in real-time, ensuring that you always have what you need on hand. By maintaining accurate inventory records through HVAC software, you can avoid unnecessary delays caused by stockouts or misplaced items.
Invoicing is a critical aspect of any business operation, and an effective HVAC software should provide seamless invoicing capabilities. Look for solutions that enable easy creation and customization of invoices based on specific job requirements. The ability to generate professional-looking invoices promptly not only enhances professionalism but also helps expedite payment processing.
Reporting capabilities are equally important when selecting an HVAC software solution.
Implementing a Labor and Materials Pricing Model
Developing a successful pricing strategy is crucial when starting an HVAC business. By considering various factors such as labor costs, materials expenses, overheads, and market competition, you can establish a pricing model that ensures profitability while remaining competitive.
To begin with, it's essential to understand the components that contribute to your overall costs. Labor costs encompass the wages of your technicians and employees involved in the installation, repair, and maintenance of HVAC systems. Materials expenses include the cost of purchasing equipment, tools, supplies, and replacement parts necessary for your operations. Overheads consist of indirect expenses like rent for office or warehouse space, utilities, insurance premiums, and administrative costs.
Once you have a comprehensive understanding of these cost elements, you can determine how to incorporate them into your pricing structure effectively. Consider the following points when setting prices:
Market Competition: Research your local HVAC market to gauge what other businesses are charging for similar services. While it's important to remain competitive with your pricing, avoid underpricing yourself as it may give potential customers the impression of subpar quality or lack of expertise.
Profit Margins: Determine the level of profit margins you aim to achieve based on industry standards and financial goals. This will help ensure that your prices cover all costs while allowing room for growth and reinvestment in your business.
Implementing Effective Marketing Strategies for Growth
To start a successful HVAC business, it's crucial to implement effective marketing strategies that will help you reach your target market and drive growth. By establishing an online presence, investing in targeted advertising campaigns, and utilizing email marketing and referral programs, you can generate leads, increase customer retention, and gain a competitive advantage in the market.
Establish an Online Presence
In today's digital age, having a strong online presence is essential for any business. To effectively market your HVAC services, consider the following steps:
Website Development: Create a professional website that showcases your services, expertise, and contact information. Ensure that your website is user-friendly and optimized for search engines to improve its visibility.
Social Media Marketing: Leverage popular social media platforms such as Facebook, Instagram, and Twitter to connect with potential customers. Regularly post engaging content related to HVAC tips, industry news, and promotions to build brand awareness.
Online Reviews: Encourage satisfied customers to leave positive reviews on platforms like Google My Business or Yelp. Positive reviews can significantly impact potential customers' decision-making process when choosing an HVAC provider.
Setting Up Your Google Business Profile for Local Visibility
To establish a strong online presence for your HVAC business, it's crucial to set up a Google My Business profile. This will not only make it easier for potential customers to find you but also enhance your local visibility. Here are some key steps to ensure that your business profile is optimized for success.
Create a Google My Business Profile with Accurate Contact Information and Service Areas
The first step in setting up your Google Business profile is to create an account and provide accurate contact information. Make sure to include your business name, address, phone number, and website URL. This will help potential customers reach out to you easily when they need HVAC services.
Specify the areas you serve so that Google can display your business in relevant local search results. Whether you cover specific neighborhoods or entire cities, be clear about the regions where you offer your services.
Optimize Your Profile by Adding Relevant Keywords and High-Quality Images of Your Work
To maximize the visibility of your HVAC business on Google, optimize your profile by incorporating relevant keywords. Think about the terms potential customers might use when searching for heating or cooling services in their area. For example, if you specialize in air conditioning repair in Chicago, include keywords like "AC repair," "Chicago," and "cooling services" throughout your profile.
Monitoring and Decreasing Expenses for Your HVAC Business
One of the key factors in running a successful HVAC business is effectively managing expenses. By closely monitoring and decreasing your costs, you can maximize your profits and ensure long-term sustainability.
Track expenses closely using accounting software or spreadsheets
To gain a clear understanding of where your money is going, it's essential to track your expenses meticulously. Utilizing accounting software or creating detailed spreadsheets can help you keep tabs on every dollar spent. This way, you can identify areas where costs are higher than expected or unnecessary expenditures are occurring.
By categorizing expenses under different headings such as air conditioning, heating, maintenance, and supplies, you can easily analyze which areas require more attention. Regularly reviewing these records will enable you to make informed decisions about cost reduction.
Identify areas where costs can be reduced without compromising quality or safety standards
Once you have a solid grasp of your expenditure patterns, it's time to identify opportunities for cost reduction. Look for areas where you can trim expenses without sacrificing the quality of your services or compromising safety standards.
Streamline operations: Evaluate your workflow and eliminate any redundant steps that may be wasting time and money.
Streamlining Operations with One-Click Dispatch System
Investing in an efficient dispatch system is crucial when starting an HVAC business. This system can help streamline scheduling and job assignment, ensuring that all tasks are efficiently managed. By implementing a one-click dispatch system, you can optimize your operations and provide better service to your customers.
One of the key benefits of a dispatch system is enabling real-time communication between technicians, office staff, and customers. With this technology in place, everyone involved can stay connected throughout the entire process. Technicians can receive job details instantly on their mobile devices, eliminating the need for manual paperwork or back-and-forth phone calls. Office staff can easily track the progress of each job and update customers on estimated arrival times. And customers themselves can receive notifications about their appointments and have peace of mind knowing that they are always in the loop.
Another advantage of using a dispatch system is the ability to optimize routes for technicians. By analyzing data such as location, traffic conditions, and job requirements, the system can generate the most efficient route for each technician to follow. This helps minimize travel time between jobs and increases overall productivity. Technicians no longer need to waste time figuring out directions or getting stuck in traffic jams; instead, they can focus on completing their tasks promptly.
Implementing a one-click dispatch system also allows you to create a structured workflow within your business.
Insuring Tools & Equipment and Exploring Options with Tradify
Starting a trade business, such as an HVAC company, requires careful consideration of various factors to ensure success. One crucial aspect that often gets overlooked is protecting your tools and equipment from theft, damage, or loss. Obtaining insurance coverage for these valuable assets is essential to safeguard your business and minimize financial risks.
Protecting Your Tools and Equipment
Having the right tools is not just important; it's vital. These tools are not only expensive but also essential for carrying out your daily operations effectively. Without them, you would face significant challenges in delivering quality services to your customers.
To protect your tools and equipment, obtaining insurance coverage is crucial. Insurance policies specifically designed for trade businesses can provide comprehensive coverage against theft, damage due to accidents or natural disasters, and even loss during transportation.
By insuring your tools and equipment, you can have peace of mind knowing that any unexpected incidents won't cripple your business financially. Whether it's a stolen tool or an accidental drop resulting in damage, insurance coverage ensures that you can quickly replace or repair the affected items without facing significant financial burdens.
Exploring Options with Tradify
In addition to obtaining insurance coverage for your tools and equipment, exploring software options can greatly enhance the efficiency of managing inventory and tracking assets.
Joining Professional Trade Associations to Enhance Your HVAC Business's Reputation
Becoming a member of reputable trade associations like ACCA or PHCC is an excellent way for trade business owners in the HVAC industry to enhance their business's reputation. These associations offer numerous benefits that can help you establish credibility, network with industry professionals, gain insights, and access new business opportunities.
Credibility through Membership
By joining professional trade associations, you instantly gain credibility in the eyes of potential clients and partners. Being affiliated with respected organizations like ACCA (Air Conditioning Contractors of America) or PHCC (Plumbing-Heating-Cooling Contractors Association) demonstrates your commitment to upholding industry standards and best practices. This can give customers confidence in your abilities and professionalism.
Networking Opportunities
One of the key advantages of joining trade associations is the opportunity to network with other professionals in the HVAC industry. These connections can be invaluable for expanding your business contacts, collaborating on projects, and sharing experiences. Attending association events such as conferences or seminars allows you to meet like-minded individuals who may become valuable resources or even referral sources for future business.
Access to Educational Resources
Trade associations often provide a wealth of educational resources aimed at helping members grow professionally. From online courses and webinars to workshops and training materials, these resources can equip you with the knowledge and skills needed to stay ahead in a competitive market.
Conclusion: Key Takeaways for Starting an HVAC Business
Congratulations! You've reached the end of our comprehensive guide on starting an HVAC business. By now, you should have a solid understanding of the industry, licensing requirements, startup costs, insurance needs, and marketing strategies. Armed with this knowledge, you're ready to take the next steps towards launching your own successful HVAC business.
To recap, make sure to conduct thorough research on state licensing requirements and obtain all necessary licenses and certifications. Create a detailed business plan that outlines your goals, target market, and financial projections. Hire skilled technicians and customer service representatives who can provide top-notch service to your clients. And don't forget to leverage technology such as HVAC software and one-click dispatch systems to streamline operations.
Now it's time for action! Take what you've learned here and start turning your dream into reality. Remember that starting a business is not easy but with dedication, hard work, and a commitment to providing exceptional service, you can build a thriving HVAC business that stands out from the competition.
FAQs
How long does it take to obtain the necessary licenses for an HVAC business?
Obtaining the necessary licenses for your HVAC business can vary depending on your location. It typically takes several weeks to several months to complete the application process and receive approval. Factors such as completing required training courses, passing exams, and gathering the necessary documentation can impact the timeline.
What are some common startup costs for an HVAC business?
Startup costs for an HVAC business can include equipment purchases (such as tools, vehicles, and diagnostic devices), licensing fees, insurance premiums (general liability insurance is essential), marketing expenses (such as website development and advertising), office supplies, employee salaries or wages if applicable.
How do I attract customers to my new HVAC business?
To attract customers to your new HVAC business:
Establish an online presence through a professional website.
Optimize your website for search engines to improve visibility.
Utilize social media platforms to engage with potential customers.
Offer competitive pricing and promotions to attract new clients.
Provide excellent customer service and encourage positive reviews and referrals.