How to Start a Dump Truck Business [Startup Guide]
Learn how to start a dump truck business.
Let's dive into the exciting world of the dump truck industry and explore the benefits and challenges that come with it. Starting any business requires careful planning and research, and a dump truck business is no exception.
Before you get started, it's important to have a clear understanding of what this industry entails. Dump trucks play a crucial role in construction, mining, and transportation sectors by hauling heavy loads of materials like gravel, sand, or debris. As such, they are in high demand for various projects.
Now, let's talk about the advantages and challenges you may encounter when starting your own dump truck business. On one hand, it offers lucrative opportunities for growth and profitability. On the other hand, there are startup costs involved such as purchasing or leasing trucks, obtaining permits/licenses, insurance coverage, and hiring qualified drivers.
To ensure success in this venture, thorough planning is key. Research local regulations and market conditions to assess demand in your area. Consider factors like competition, target clientele, pricing strategies, and potential partnerships with construction companies or contractors.
Starting a dump truck business can be both rewarding and challenging. With proper preparation and dedication to your goals, you can carve out a niche for yourself in this dynamic industry.
Industry Size and Growth: Trends in the Dump Truck business
Dump Truck Business: Size and Growth Trends
The dump truck business is a thriving industry that has experienced significant growth in recent years. In this section, we will explore the size of the industry and the trends that have contributed to its growth.
Industry Size
The dump truck business operates within the larger construction and transportation industries. As such, its size can be determined by examining the overall market for these sectors. According to recent reports, the global construction industry is valued at over $10 trillion, with a projected growth rate of 4.2% over the next five years. This indicates a substantial market for dump truck services, as they play a crucial role in construction projects.
Growth Trends
Several factors have contributed to the growth of the dump truck business in recent years. These trends include:
Infrastructure Development

: Governments and private entities worldwide are investing heavily in infrastructure development. This includes the construction of roads, bridges, and buildings, all of which require the services of dump trucks for the transportation of materials such as sand, gravel, and construction debris.

Urbanization

: The rapid growth of urban areas has led to increased demand for construction projects, such as the development of residential and commercial buildings. Dump trucks are essential for transporting construction materials to and from these sites, further driving the demand for their services.

Mining and Quarrying

: The mining and quarrying industries heavily rely on dump trucks for the transportation of minerals, ores, and other raw materials. With the increasing demand for these resources, the dump truck business has experienced growth as a result.

Environmental Regulations

: The implementation of stricter environmental regulations has led to an increased focus on recycling and waste management. Dump trucks are often used for the transportation of recyclable materials and waste, further contributing to the growth of the industry.

Technological Advancements

: The dump truck industry has also benefited from technological advancements. The introduction of more efficient and environmentally friendly dump truck models has increased their appeal to customers. Additionally, advancements in telematics and fleet management systems have improved the overall efficiency and productivity of dump truck operations.
Understanding the Dump Truck Industry
Dump trucks play a crucial role in various industries, from construction to mining. To succeed in starting a dump truck business, it is essential to have a comprehensive understanding of the industry. This involves knowing the different types of dump trucks and their uses, being aware of key players in the market, and understanding current trends and future growth prospects.
Different Types of Dump Trucks and Their Uses
Dump trucks come in various sizes and configurations, each designed for specific tasks. Here are some common types of dump trucks:
Standard Dump Trucks: These are the most traditional type of dump trucks with a hydraulic piston that lifts the bed for unloading materials.
Transfer Dump Trucks: Also known as "slinger" or "chip spreader" trucks, these have separate trailers that can be detached for efficient material distribution.
Articulated Dump Trucks: With an articulation joint between the cab and trailer, these versatile vehicles excel at navigating rough terrains and hauling heavy loads.
Side Dump Trucks: Featuring hydraulic cylinders on either side, these trucks allow materials to be dumped sideways, making them ideal for confined spaces or uneven surfaces.
Understanding which type of dump truck suits your business needs will depend on factors such as load capacity requirements, terrain conditions, and project specifications.
Key Players in the Dump Truck Industry
The dump truck industry consists of several key players who contribute to its growth and development:
Manufacturers: Companies like Caterpillar Inc., Volvo Group, and Komatsu Ltd., design and produce high-quality dump trucks tailored to meet industry demands.
Truck Drivers: Skilled truck drivers are the backbone of any successful dump truck business. They ensure safe transportation of materials while adhering to regulations and maintaining delivery schedules.
Construction Companies: Construction firms heavily rely on dump truck services for transporting construction materials such as sand, gravel, and asphalt. Building strong relationships with these companies can lead to consistent work opportunities.
Mining Companies: The mining industry requires dump trucks for hauling large quantities of minerals and ores from mines to processing facilities. Establishing partnerships with mining companies can be lucrative for dump truck businesses.
Researching Market Demand and Target Audience
Identifying local construction projects and infrastructure development plans
To start a successful dump truck business, it is crucial to identify the local construction projects and infrastructure development plans in your target market area. This will help you understand the demand for your services and determine potential clients. By researching ongoing or upcoming projects, you can position yourself strategically to cater to their specific needs.
Analyzing competition in your target market area
Another vital aspect of starting a dump truck business is analyzing the competition in your target market area. This research will provide valuable insights into existing businesses offering similar services. By understanding their strengths, weaknesses, pricing strategies, and customer base, you can develop effective strategies to differentiate yourself from the competition and attract more customers.
Understanding the needs and preferences of potential customers
To succeed in any business, including a dump truck business, it is essential to understand the needs and preferences of potential customers. Conducting market research will allow you to gain insights into what your target customers expect from a dump truck service provider. You can gather information about their preferred delivery schedules, load capacities required, pricing expectations, and any additional services they might need.
One effective way to gather this information is by engaging with potential customers through social media platforms or online forums where they discuss construction projects or related topics. By actively participating in these discussions and asking questions about their requirements, you can gain valuable insights that will help shape your service offerings.
Creating a customer profile based on this research will enable you to tailor your marketing efforts towards attracting your ideal clients effectively. For instance:
If you find that there is a high demand for quick turnaround times among construction companies in your area, emphasize your ability to deliver materials promptly.
If safety is a top priority for potential clients, highlight any safety certifications or procedures you have implemented within your business.
By aligning your services with the needs of potential customers identified through thorough market research, you can increase your chances of attracting and retaining clients.
Developing a Business Plan for Your Dump Truck Business
Starting a dump truck business can be an exciting venture, but it requires careful planning to ensure its success. A well-developed business plan is essential for outlining your goals, understanding the market, and creating a solid financial foundation.
Outlining Your Business Goals, Mission, and Vision Statement
Before diving into the specifics of your dump truck business plan, it's important to define your overall objectives. Start by outlining your business goals – what do you hope to achieve with your new venture? Are you looking to expand an existing fleet or establish a brand-new operation?
Next, craft a clear mission statement that succinctly describes the purpose and values of your dump truck business. This statement should reflect your commitment to providing exceptional service and meeting the needs of your customers.
Consider developing a vision statement that outlines where you see your business in the future. This can help guide decision-making as you work towards growth and success.
Conducting a Thorough Market Analysis
To effectively position your dump truck business in the market, conducting a thorough analysis is crucial. Start by researching industry trends and identifying potential opportunities and risks. Look into factors such as demand for hauling services in specific regions or industries.
Consider gathering data on competitors – their pricing strategies, target markets, and service offerings. This will help you understand how you can differentiate yourself in the market.
Furthermore, analyze any regulatory requirements or permits needed to operate legally in your area. Understanding these factors upfront will save you time and potential legal issues down the road.
Creating a Detailed Financial Plan
A robust financial plan is essential when starting any new business, including a dump truck operation. Begin by estimating both initial startup costs and ongoing expenses required to keep your trucks running smoothly.
Projected income should also be considered – research industry rates and calculate how much revenue you can expect based on your anticipated workload. This will help you determine if your business idea is financially viable.
Create a cash flow projection to understand the inflow and outflow of funds in your business.
Financing Options and Funding Your Dump Truck Business
Starting a dump truck business requires careful planning, especially.
Exploring Different Financing Options
When launching your dump truck business, you have several financing options to consider. Here are some popular choices:
Bank Loans: Approach banks that offer small business loans specifically tailored for purchasing or leasing equipment like dump trucks. These loans often come with competitive interest rates and flexible repayment terms.
Equipment Leasing: Instead of buying dump trucks outright, you can explore equipment leasing options. Leasing allows you to access the necessary vehicles without a significant upfront investment. It also provides flexibility as you can upgrade your fleet as needed.
Business Credit Card: Utilizing a business credit card can be an effective way to manage initial expenses such as fuel costs, insurance premiums, and maintenance fees. However, keep in mind that credit cards typically have higher interest rates than loans.
Calculating Startup Costs
Before securing funding, it is crucial to calculate the startup costs associated with your dump truck business accurately. Consider the following expenses:
Dump Truck Purchase or Lease: Determine whether you plan to purchase or lease your dump trucks and factor in the associated costs accordingly.
Commercial Space: If you require a physical location for administrative tasks or vehicle storage, include rent or mortgage payments in your calculations.
Insurance: Protecting your assets is essential in any business endeavor. Obtain quotes for commercial auto insurance policies that cover liability and property damage.
Licenses and Permits: Research the licenses and permits required by local authorities for operating a dump truck business in your area.
Marketing and Advertising: Allocate funds for marketing efforts such as website development, online advertising campaigns, print materials, and networking events.
Seeking Potential Investors or Partnerships
If you require additional funding beyond traditional financing options, seeking potential investors or partnerships can be a viable route. Consider the following approaches:
Angel Investors: These individuals are often willing to invest in promising startups.
Setting Up Your Dump Truck Company and Obtaining Licenses/Permits
Starting a dump truck business requires careful planning and adherence to legal requirements.
Registering Your Business with Appropriate Government Agencies
Before you can operate your dump truck business, you need to register it with the appropriate government agencies. The specific registration process may vary depending on your location and legal structure. Here are some general steps to follow:
Choose a Legal Structure: Decide on the legal structure for your business, such as a sole proprietorship, limited liability company (LLC), or corporation.
Name Your Company: Select a unique name for your dump truck company that reflects its identity and purpose.
Register with the State: Register your company with the state where you plan to operate. This typically involves filing necessary forms and paying registration fees.
Obtain an Employer Identification Number (EIN): Apply for an EIN from the Internal Revenue Service (IRS). This number is used for tax purposes and is essential if you plan to hire employees.
Obtain Necessary Permits: Research the permits required in your area for operating a dump truck business, such as local business permits or environmental permits related to hauling certain materials.
Applying for Necessary Licenses, Permits, and Certifications
In addition to registering your business, there are specific licenses, permits, and certifications that you must obtain before starting operations:
Commercial Driver's License (CDL): All drivers operating commercial vehicles like dump trucks must possess a valid CDL issued by their state's Department of Motor Vehicles (DMV). Ensure that all drivers employed by your company meet this requirement.
Specialized Certifications: Depending on the nature of materials you plan to haul, additional certifications may be necessary. For example, if you intend to transport hazardous materials, you may need a Hazardous Materials Endorsement (HME) on your CDL.
Insurance Coverage: Obtain appropriate insurance coverage for your dump truck business. This typically includes liability insurance, commercial vehicle insurance, and workers' compensation insurance if you have employees.
Acquiring and Maintaining Dump Truck Equipment
Starting a dump truck business requires careful consideration.
Choosing the Right Type of Dump Trucks Based on Your Business Needs
When venturing into the dump truck business, selecting the appropriate type of trucks is crucial to meet your specific hauling requirements. Consider the following factors before making a decision:
Payload Capacity: Determine the maximum weight your trucks should be able to carry based on the types of loads you plan to haul. This will help you choose between smaller capacity trucks (typically around 10 tons) or larger ones capable of carrying up to 30 tons.
Dumping Mechanism: Decide whether you require rear-end or side dumping capability depending on your intended applications. Rear-end dumps are suitable for general-purpose hauling, while side dumps are more efficient for certain industries like mining.
Terrain Compatibility: Evaluate if your business operates in areas with challenging terrains such as steep slopes or off-road conditions. In such cases, consider investing in trucks equipped with features like all-wheel drive or heavy-duty suspension systems for enhanced maneuverability.
Evaluating Options for Purchasing New or Used Vehicles
Once you have determined your specific needs, it's time to explore options for acquiring dump truck equipment that fits within your budget. You can choose between purchasing new or used vehicles based on various considerations:
Cost Considerations: Used trucks generally come at a lower price point compared to brand-new ones, making them an attractive option for startup businesses looking to minimize initial investment costs.
Reliability and Maintenance: While new trucks offer peace of mind in terms of reliability and warranty coverage, well-maintained used trucks can provide a cost-effective solution. Ensure you thoroughly inspect used vehicles and consider their maintenance history before making a purchase.
Availability: Depending on your location, the availability of new or used dump trucks may vary. Research local dealerships, online marketplaces, and auctions to find the best options that suit your requirements.
Marketing Strategies and Growing Your Dump Truck Business
Starting a dump truck business is just the first step towards success. To truly grow your business and reach more customers, effective marketing strategies are essential.
Creating a professional website showcasing your services
In today's digital age, having an online presence is crucial for any business. A well-designed website can serve as a powerful marketing tool for your dump truck business. It allows potential customers to learn more about your services, browse through testimonials from satisfied clients, and easily contact you for inquiries or bookings.
To create a professional website:
Choose a user-friendly platform such as WordPress or Wix.
Select a clean and modern design template that reflects the nature of your business.
Clearly highlight the range of services you offer, including hauling options and materials handled.
Use high-quality images of your dump trucks in action to showcase their capabilities.
Incorporate compelling content that emphasizes the benefits of choosing your company over competitors.
Utilizing online advertising platforms to reach potential customers
Digital marketing offers numerous opportunities to target specific audiences and generate leads for your dump truck business. By leveraging online advertising platforms effectively, you can maximize visibility among potential customers who are actively seeking hauling services.
Consider these strategies:
Run targeted ads on search engines like Google Ads using keywords related to dump truck services in your area.
Advertise on social media platforms like Facebook or LinkedIn, focusing on industries that frequently require dump truck assistance (construction companies, contractors).
Collaborate with local directories or industry-specific websites to promote your services by featuring them prominently on their platforms.
Building strong relationships with contractors, construction companies, etc.
Word-of-mouth referrals play a significant role in growing any business, including dump truck operations. Establishing strong relationships with contractors, construction companies, and other industry professionals can lead to repeat business and valuable recommendations.
Here's how you can foster these relationships:
Attend local networking events or industry trade shows to connect with potential clients.
Offer incentives or discounts for referrals from existing customers.
Provide exceptional service consistently to build a reputation for reliability and professionalism.
Building a Successful Dump Truck Business
Hiring Skilled Drivers Who Are Experienced in Operating Dump Trucks
One of the key factors in building a successful dump truck business is hiring skilled drivers who have experience operating dump trucks. These drivers are the backbone of your business and play a crucial role in ensuring smooth operations and customer satisfaction.
When looking for drivers, prioritize those with previous experience in the industry. They should be familiar with the intricacies of operating dump trucks, including safety protocols, loading and unloading procedures, and maintenance requirements. They should possess a valid commercial driver's license (CDL) with appropriate endorsements for driving heavy vehicles.
To attract experienced drivers to your new dump truck business, consider offering competitive wages and benefits packages. This will help you stand out among other dump truck businesses and entice skilled professionals to join your team. Conduct thorough background checks to ensure that potential hires have clean driving records and are reliable individuals.
Implementing Efficient Scheduling and Dispatching Systems
Efficient scheduling and dispatching systems are essential for optimizing the operations of your dump truck business. By effectively managing routes and coordinating pickups and deliveries, you can maximize productivity while minimizing downtime.
Consider implementing software solutions specifically designed for trucking businesses to streamline scheduling processes. These tools allow you to assign jobs to drivers based on their availability, proximity to construction sites or dumping locations, and vehicle capacity. With real-time tracking capabilities, you can monitor the progress of each job and make adjustments as needed.
Furthermore, establishing clear communication channels between dispatchers and drivers is crucial for seamless coordination. Utilize mobile communication devices or apps that enable instant messaging or voice calls so that any changes or updates can be promptly relayed.
Providing Excellent Customer Service to Foster Long-Term Relationships
In the highly competitive world of dump truck services, providing excellent customer service is vital for building long-term relationships with construction companies and other clients. Satisfied customers are more likely to become repeat clients and refer your trucking business to others.
To ensure exceptional customer service, prioritize responsiveness and reliability. Promptly address any inquiries or concerns from clients and keep them informed about the status of their projects. By being reliable and delivering on time, you will earn their trust and establish a reputation for dependability.
Understanding SWOT Analysis for Your Dump Truck Business
Starting a dump truck business requires careful planning and analysis. One effective tool to assess your business's potential is the SWOT analysis. By identifying your strengths, weaknesses, opportunities, and threats, you can develop strategies to leverage your advantages, address weaknesses, and minimize risks.
Identifying Strengths
To gain a competitive advantage in the dump truck industry, it's crucial to identify and capitalize on your strengths. Consider aspects such as:
Experience: If you have prior experience in the trucking or construction industry, it can give you valuable insights and a head start.
Fleet Size and Condition: Assess the size and condition of your dump truck fleet. A well-maintained fleet with several trucks can handle more projects simultaneously.
Skilled Workforce: Evaluate the skills of your drivers and support staff. Well-trained employees can ensure smooth operations and customer satisfaction.
Reputation: If you have built a positive reputation in the industry through previous ventures or satisfied clients, it can be a significant strength.
By understanding these strengths, you can highlight them in your marketing efforts to attract customers seeking reliable dump truck services.
Addressing Weaknesses
While identifying strengths is important, acknowledging weaknesses is equally crucial. By addressing these weaknesses head-on, you can improve efficiency and reduce potential risks:
Limited Financial Resources: If you lack sufficient capital to invest in new trucks or equipment upfront, explore financing options or consider leasing vehicles initially.
Inadequate Market Knowledge: Conduct thorough market research to understand demand patterns, competition levels, pricing structures, and target customers. This knowledge will help you make informed decisions.
Lack of Brand Awareness: If your brand is not well-known within the industry or local market, focus on developing a strong online presence through social media platforms and search engine optimization (SEO) techniques.
By recognizing these weaknesses, you can take proactive steps to address them and strengthen your business.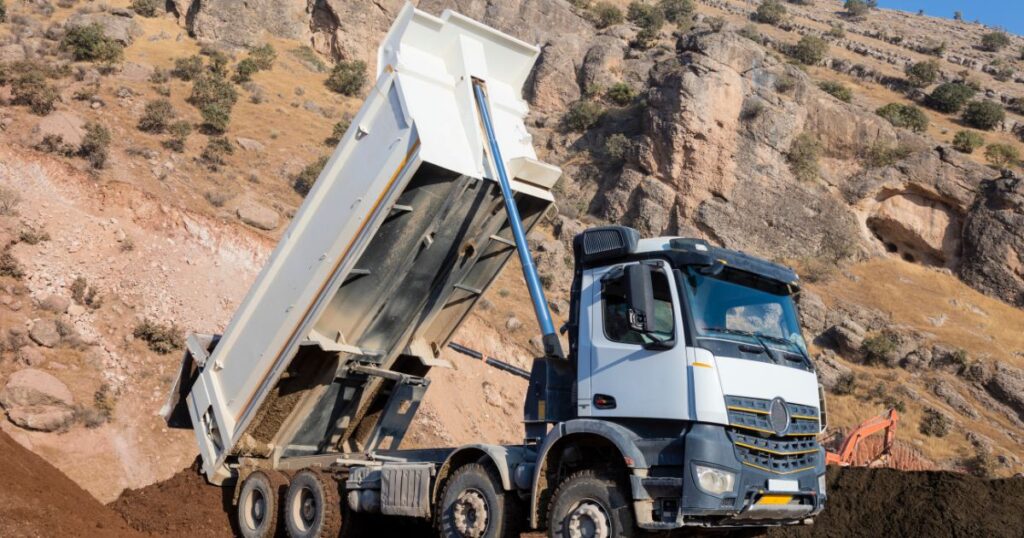 Frequently Asked Questions about Starting a Dump Truck Company
How much does it cost to start a dump truck business?
Starting a dump truck business requires some initial investment. The cost can vary depending on several factors such as the number of trucks you plan to have, whether you buy new or used vehicles, and the region where you operate. On average, you can expect to spend between $50,000 and $150,000 to get your dump truck business up and running.
Here are some potential costs to consider:
Truck Purchase: The biggest expense will be purchasing one or more dump trucks. Prices for new trucks range from $100,000 to $200,000, while used ones may cost around $50,000 to $100,000.
Insurance: Dump truck insurance is essential for protecting your assets. Depending on the coverage you choose and the size of your fleet, insurance costs can range from $5,000 to $15,000 per year per truck.
Licensing and Permits: You'll need various licenses and permits to operate legally. Costs for these documents can add up to around $1,500 to $3,500.
Maintenance and Repairs: Regular maintenance is crucial for keeping your trucks in good condition. Budget for ongoing expenses like oil changes, tire replacements, and repairs that might cost around $10,000 annually per truck.
While these figures provide a general idea of the costs involved in starting a dump truck business, it's important to conduct thorough research specific to your area before making any financial decisions.
What licenses or permits are required to operate a dump truck?
Yes! Operating a dump truck business requires specific licenses and permits. These may include commercial driver's license (CDL), motor carrier authority (MC), Department of Transportation (DOT) number registration, International Fuel Tax Agreement (IFTA) sticker permits for interstate travel, and potentially more based on local regulations. The requirements may vary depending on your location; however here are some common ones:
Commercial Driver's License (CDL): To drive a commercial vehicle like a dump truck legally in most places requires a CDL. You'll need to pass a written test and a skills test to obtain this license.
Business License: Registering your dump truck business with the appropriate local government agency is necessary to operate legally. The cost for obtaining a business license can range from $50 to $400, depending on your location.
How do I find customers for my dump truck business?
To find customers for your dump truck business:
Network with construction companies and contractors in your area
Advertise online through social media platforms targeting construction-related audiences
Join local business associations and attend industry trade shows
Establish partnerships with excavation companies and material suppliers
Offer competitive pricing and excellent customer service to attract repeat business.
What are the maintenance costs associated with dump trucks?
Dump truck maintenance costs include regular servicing, tire replacements, engine repairs, oil changes, fuel expenses, insurance premiums, and unexpected repairs. It's crucial to budget for these ongoing expenses to ensure your trucks remain in optimal condition and minimize downtime.
How can I differentiate my dump truck business from competitors?
To differentiate your dump truck business from competitors, you can implement several strategies that will set you apart in the market.
Specialize in a niche

: Consider focusing on a specific type of hauling or material. This specialization will position your business as experts in that area, attracting customers who require specialized services.

Offer exceptional customer service

: Provide prompt and reliable service to your clients. Respond quickly to inquiries, accommodate special requests, and ensure that your drivers are professional and courteous. Going the extra mile will help you build a loyal customer base.

Invest in modern technology

: Stay ahead of the competition by equipping your dump trucks with the latest technology. This could include GPS tracking systems, real-time communication tools, or even eco-friendly features. By showcasing your commitment to efficiency and innovation, you will attract customers who value these qualities.

Build strong relationships with suppliers

: Establish strong relationships with suppliers of construction materials, landscaping supplies, or any other materials commonly transported by dump trucks. By securing reliable sources and potentially negotiating better prices, you can provide a competitive advantage to your customers.

Focus on safety and compliance

: Ensure that your dump trucks meet all safety and compliance regulations. Implement rigorous training programs for your drivers and regularly inspect and maintain your vehicles. By prioritizing safety, you will gain the trust and confidence of your customers.

Utilize effective marketing strategies

: Develop a strong brand identity and create a compelling marketing campaign. Utilize online platforms, such as social media and a professional website, to showcase your services and expertise. Consider offering special promotions or discounts to attract new customers and retain existing ones.

Provide additional services

: Differentiate your business by offering additional services that complement dump truck hauling. This could include site preparation, material delivery, or even equipment rental. By offering a comprehensive range of services, you can become a one-stop solution for your customers' needs.
Remember, differentiation is about finding unique selling points that resonate with your target market.
Concluding Thoughts on Starting a Successful Dump Truck Business
Congratulations! You have now completed all the essential sections to start your own dump truck business. By understanding the industry, researching market demand, developing a business plan, securing financing, obtaining licenses/permits, acquiring equipment, implementing marketing strategies, and analyzing your business's strengths and weaknesses through SWOT analysis, you are well-equipped to embark on this entrepreneurial journey.
Now that you have gained valuable insights into starting a dump truck business, it's time to take action. Start by putting your business plan into motion and securing the necessary funding. Remember to stay focused on building a strong foundation for your company and consistently evaluate market trends to adapt your strategies accordingly.
Best of luck with your new venture! With determination and hard work, you can build a successful dump truck business that meets the needs of your target audience while achieving financial success.