7 Crazy AI Business Ideas to Make $10,000 Every Month
It's honestly the best time to be Alive.
You can literally make up to 10,000$ every month from anywhere.
By Just using some free and low-cost AI Tools.
All you need is a laptop, and internet and a desire to learn and take action.
Today I'm going to share with you 7 Step-by-Step AI Business Ideas that you can start in the next couple of hours.
Artificial intelligence (AI) is revolutionising the way businesses are conducted across the globe. AI is not only making businesses run more efficiently, but it's also making it possible to come up with new and creative ideas to generate income.
AI-driven businesses can now be launched with minimal resources and minimal risk.
So, if you're ready to change your life and start making money with AI, this guide is for you!
Here are 7 crazy AI business ideas that you can use to start making upto $10,000 every month.
These ideas are backed by real-world examples, and are all within reach for any entrepreneur.
Top 7 AI Business Ideas to Make Money Online
Content Writing Agency
Youtube Video Script Writing Service
Weekly Newsletter – Free + Paid
AD Copy Agency
Niche Blogs
Copywriting Services – Product Descriptions, Landing Page copy, Email Marketing Campaigns
Kids Story E-book
Let me explain these one by one:
1. Content Writing Agency
This is probably the best and easiest way to make money online today.
Everything you see on the internet is made up of content.
From Websites to Blogs to Press Releases.
And the best part: 75% of Businesses and startups outsource their content.
This means you can start working as a freelance content creator and slowly scale it to a content writing agency.
Check out this One person content marketing Agencies on Fiverr.
Laura with an average order value of 100$ makes around 5000-6000$ Every Month as a content Writer.
Saadat easily makes 4000-5000$ through his Content writing Gigs
You will find hundreds and thousands of such examples of Real People Making Real Money Providing Content Writing Services on Fiverr and Upwork.
Now you must be thinking.
Alright, Ryan but how do I become a content writer and write quality posts with the least grammatical errors?
This is where our AI Tools come to our Rescue. 🙂
There are many FREE and PAID AI Tools to help you become a great and prolific content writer.
Let's start with:
ChatGPT
ChatGPT is a Free AI Tool by OpenAI.
You can chat with it like a real human being and it gives you answers under 15 seconds.
Think of it as your own Personal Assistant.
Whether it's a maths question or some coding problem or general questions you ask on Google.
ChatGPT can handle almost everything.
Let's see it in action.
Create a free account by going to https://chat.openai.com/auth/login
When logged in, you will see an input box at the bottom. Just enter the topic you have to write about and hit enter.
For our Example: Let's say we have a client who wants a blog article on 'Creative Birthday Ideas for a 5 year old'
I will enter 'share some creative ideas for a 5 year old's birthday' in the input box.
This is known as Prompt. We will discuss this more in future articles.
Let's just hit enter for now and see what results we get.
Cool, so ChatGPT has given us some really good birthday ideas.
Let's ask it to expand these ideas further.
I enter the Prompt: expand on these ideas and write 100 words on each of these
It gives us around 100-word explanations of all these ideas.
Perfect! Now all we need is an introduction and conclusion.
Let's ask ChatGPT: 'add an intro and conclusion for this topic'
And our 1000-word article is ready.
Go through the article once, and if you don't like the answers, you can click on 'Regenerate Response' for another variation.
Now Copy-paste all this in a Google Doc and deliver to your client.
And all this took just 5 minutes.
Crazy! Isn't it?
Imagine how many articles you can publish in a day.
More Articles = More Dollars $$$
Now you must be wondering if it was too easy.
Everybody would do it. Right?
I agree, getting and managing clients on Fiverr isn't easy.
That's why you need to learn 'Freelancing Business & How to Freelance on Fiverr'.
And my No. 1 Source for Quality and Affordable Courses is Skillshare.
You can find hundreds of Courses by Expert Freelancers and watch all of them at an affordable monthly subscription fee.
Unlike other Platforms, you don't have to pay individually for each course.
Your membership gets you access to thousands of Expert Courses at just one monthly/Annual Plan.
Now all you need to do is:
Learn from Skillshare –> Sell your Content Writing Service on Fiverr –> Use AI Tools to Create Content –> Hire & Train other Writers to Use AI Tools Effectively –> Build your own Content Writing Agency –> Make Profits
Alright, now let's move on to our next AI Business Idea that you can start from your home.
2. Youtube Video Script Writing Service
It's not a secret anymore. Videos are growing like crazy.
And youtube is at the forefront when it comes to videos.
Creators and faceless youtube channels all need Scripts for their youtube videos.
And this is where lies our next Business Idea.
We will be writing Youtube Video Scripts using AI Tools and selling our Youtube Script Writing Service Gigs on Fiverr.
Let's see the potential of this business idea first.
This Guy here charges $200 for a 1600 words Script.
Unbelievable!
He is easily making $10,000 Every month from his gigs on Fiverr.
Now check this one by bandicrawford.
She's a top-rated seller making around 5-6K $ monthly selling youtube video scripts.
But as a new freelancer, I would recommend that you start with low cost gigs and slowly increase the prices as you get more experience and ratings on your fiverr gigs.
This Freelancer has priced his youtube video script-writing services well.
At 20$ he has 8 orders in queue.
At this rate, he is definitely making around 4 to 5000$ every month.
Now that you are convinced there's a lot of money to be made selling youtube video script-writing services.
Let me show how you can create a youtube script using AI Tools.
Let's go back to ChatGPT
I need a video script with Title – Warren Buffet Investing Style
I write the following prompt in chatGPT and hit enter.
'Write an engaging youtube script of 1500 words discussing the Investing Style of Warren Buffett, along with some examples and stories.'
And here's what we get.
It also mentions examples of his Investment style and how it has helped him achieve great success.
All this in under a minute.
I have to mention here that chatGPT may include some factual errors so you need to cross verify the facts before sending the script to the client.
Even if you deliver just 4-5 youtube scripts every day.
You can easily make 3000-4000$ a month.
Isn't it Amazing?
Now I need to mention here that chatGPT doesn't have data beyond 2021.
So it can't be used to write on current events or anything post 2021.
But I have a tool which is even better than ChatGPT and can write even on current topics.
And that's WriteSonic.
Using the same Video Title: Warren Buffet's Investing Style
Let's see what Writesonic gives us as output.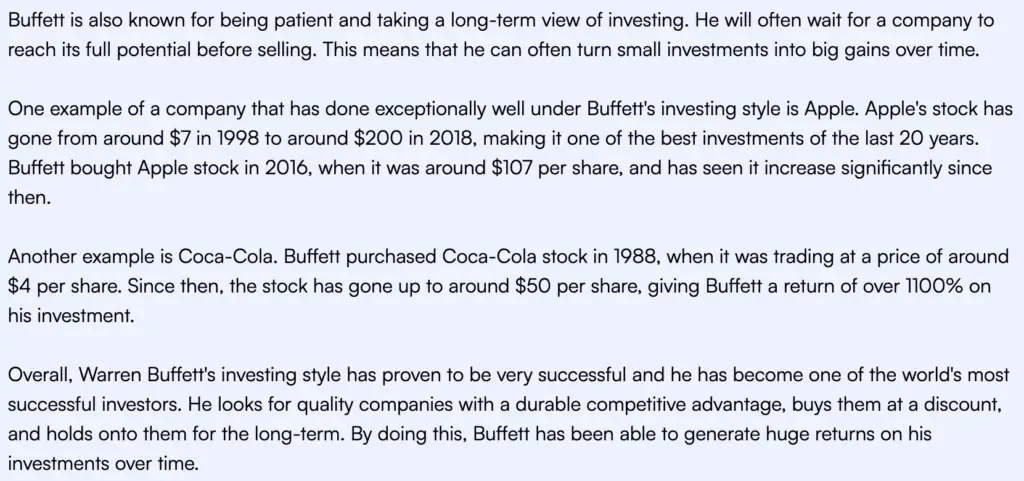 If you can see, Writesonic has shared more facts and data with us than ChatGPT.
And when it stops I simply ask it to: expand with more details, facts and stories
And like an obedient Assistant, it obeys our command.
Honestly, clients love such youtube scripts with data, stats and stories.
In my 8 years as an Online entrepreneur, I have never found anything more easy than this to make money online.
Unlike ChatGPT, Writesonic is a paid product.
But its capabilities justify it's affordable monthly price.
And it's my go-to AI Tool for writing blogs, articles, scripts and Ad copies.
I highly recommend it.
3. Weekly Newsletters – Free/Paid
Newsletters are a great way to grow and monetize your audience.
Over the past couple of years, newsletter business has grown like crazy.
Hubspot acquired The Hustle newsletter for around $27 Million.
The Morning Brew newsletter is valued at $75 Million.
The Milk Road was sold for $1 Million in under a year.
These are just a few examples.
A newsletter is a simple business idea.
Step 1: Pick your Niche, create a weekly or daily newsletter.
Step 2: Acquire initial customers via Paid Advertising.
Step 3: Grow with Referral Incentives.
Step 4: Approach brands that will be a right fit for your audience for sponsorships.
Step 5: Sell Ad Space in your newsletter.
Step 6: Exit by Selling your business for 50x monthly profits.
That means you only need to grow your newsletter business to $20K monthly profit before you can sell it for a Million dollar exit.
With Simple to use Newsletter Platforms like Beehiiv and Substack.
Hosting and monetising a newsletter business today has become all the more easy.
But how do we use AI Tools to create our Newsletter?
Let me show you how:
Take for example our Niche is 'Personality Development & Productivity'
Let's go back to our AI Tool – Writesonic and enter the prompt:
write a newsletter issue about the pomodoro method for productivity with actionable steps.
Give it 10 seconds and Voilla!
We have a step-by-step 'newsletter' issue about Pomodoro, which our audience would love to read and share.
Want one more exapmple?
Let's see what we get when we enter the prompt:
write a newsletter issue about the pareto principle for productivity with actionable steps.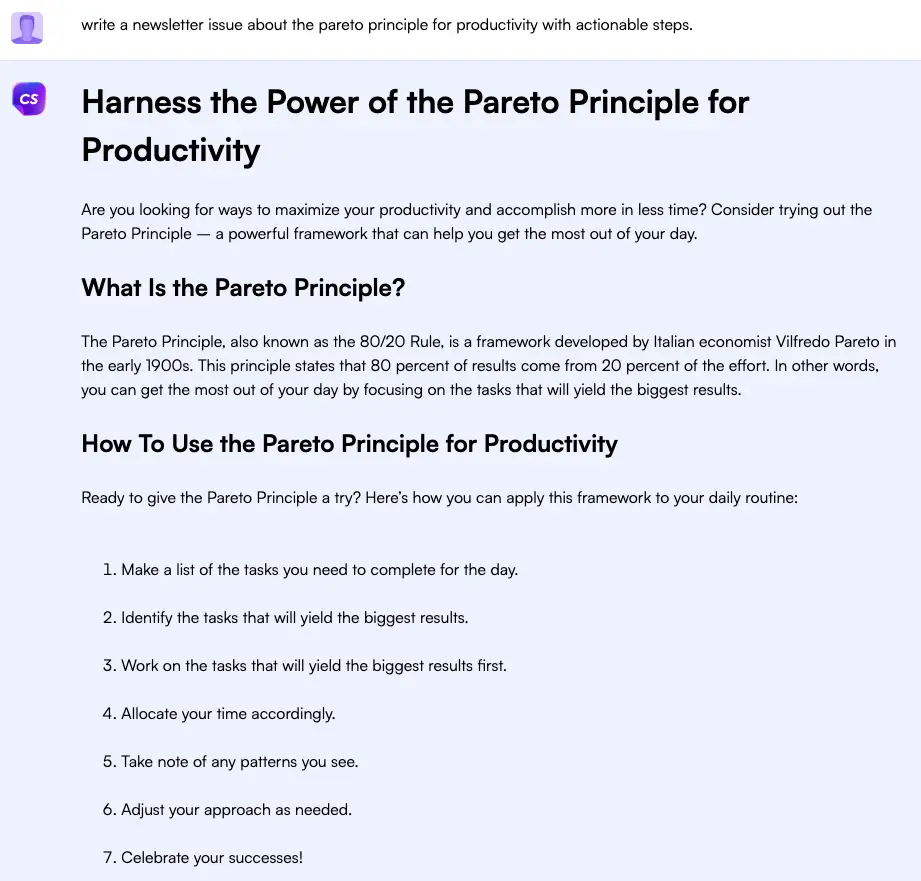 Perfect! Now decide your Niche and just get started with your newsletter business using AI Tools.
4. AD Copy Agency
You have probably seen ads like this while browsing Instagram/FB
or Google ADs while doing a Google Search for your Topic.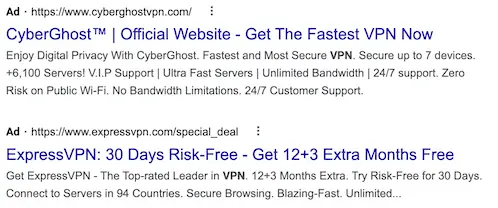 Entrepreneurs and businesses pay good money to freelancers for creating these AD Copies.
If we do a quick search for 'AD Copy' on Fiverr, we can see dozens of freelancers earning by creating these simple Facebook and Google Ads Copy.
At $30 per gig ayamedaghri is making around 2000$ every month.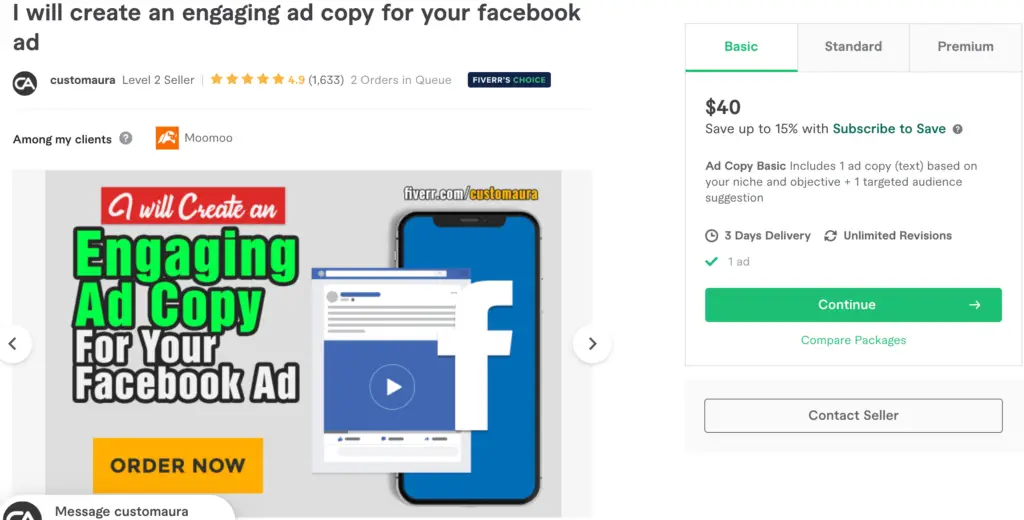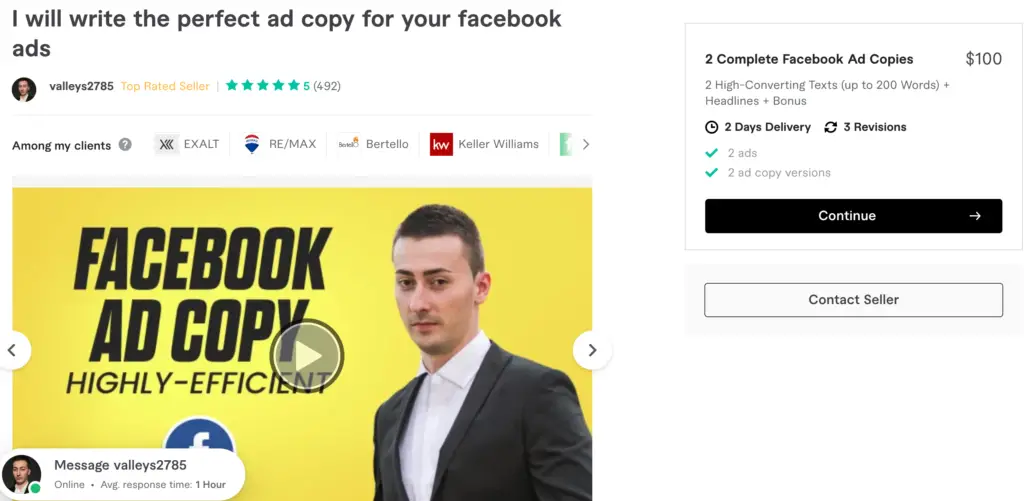 If you can create and sell out 4-5 such ad copy gigs daily, you can soon be a Top-Rated Seller.
And make upto 100K Dollars a year, like the one above.
Every Product or Service needs an advert.
As an AD Copywriter, your work is to write words that make people click on your Client's Ads. And convert viewers into customers.
Let's see how to create these high converting AD Copies using AI Tools.
Open Writesonic –> Ads and Marketing Tools –> Google Ads
Enter Product Name and a short description about the product (these you will get from your clients) and Hit 'Generate'
For our Example, let's enter the Following Details:
Product/Service Name: BetterVPN

Product/Service Description: Fast & Secure VPN. Enjoy Full Digital Privacy.

Search Term: Best VPN Service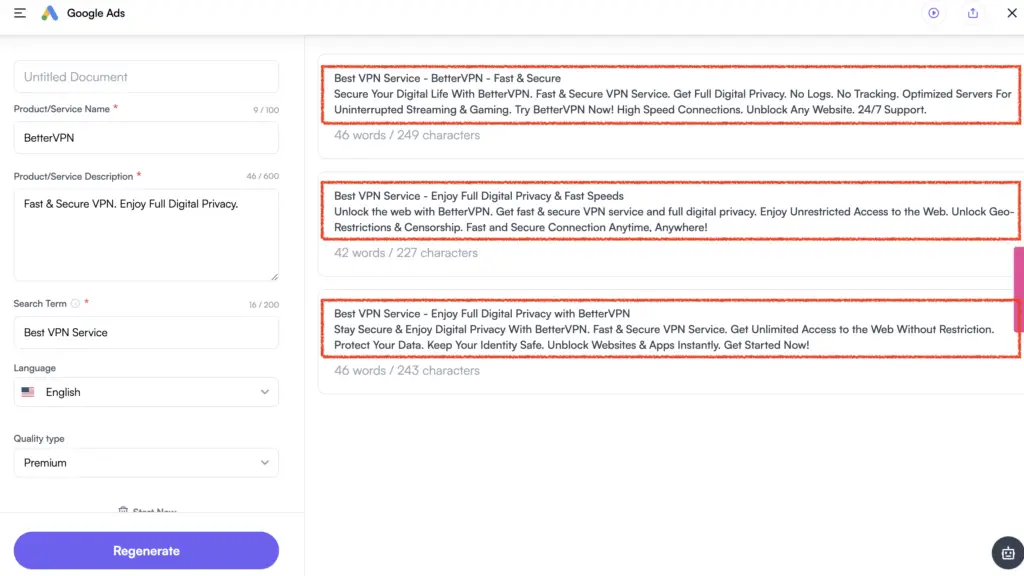 Click 'Generate' and in under 10 seconds, We get 3 ad copy variations.
Send it over to your client and voila you just earned 30$
You can similarly create Facebook and Linkedin Ads using AI Tools.
5. Niche Blogs
Ask any Digital Entrepreneur how they started their online income journey, and you will find most of them made their 1st online dollars via blogging.
Blogging is simply creating your own website and posting valuable content on it.
It all starts with deciding your Niche on which you will write your articles.
Getting a Domain and Hosting Package.
Installing WordPress and setting up SSL.
And then consistently posting high-value content.
Don't worry if all this sounds too technical or complicated to you.
You can simply follow this step by step video below to setup your first wordpress blog.
My Recommended Domain and Hosting Service is Bluehost
If you want to speed things up and don't want to deal with WordPress setup and installation yourself, you can always hire someone on Fiverr to set up your blog.
For Just $10.
Click on the image below for my recommended Fiverr freelancer for setting up your blog.
From there on all you have to do is just write and publish your content.
Some Suggested Niches for Blogging using AI Tools are:
Book Recommendation/Book Summary
Movie/Webseries Recommendation
Travel Destinations (Things you must see in 'City')
Pet Care Blog (Dog/Cat)
Parenting Tips Blog
Dating and Romance Tips Blog
Career Tips – Resume Building, Handling Interview Questions etc.
Let's see how to use AI Tools to create high-value content for our audience.
For our Example: We will be using Writesonic to write a full-length blog article of 1000+ words on the Topic – 21 Sales Job Interview Questions and answers
Let's begin by Selecting 'AI Article Writer 4.0'
Then Enter your Topic – 21 Sales Job Interview questions and answers
and click 'Search Keywords'
Select all the keywords that you want the article to cover and click 'Next'
On Next page you can select:
Once you click 'Generate Outline' you will have 3 variations of Article Outlines to choose from for your Article.
You can change the number of variations you need and can also mix and match the outlines from among different variations.
Click on 'Generate Article' and wait for 10 seconds.
And Voila! Our 1333 words Article is ready for publishing, which you can export or share.
You don't have to worry about Grammar or Plagiarism.
The article is ready to be Published right away.
Isn't this Awesome? Imagine how many articles you can publish every day now.
Next AI Business Idea is Copywriting Agency.
6. Copywriting Agency
You already know this well.
Copywriting is a High Income Skill.
As a copywriter, you write words that convert visitors into leads and/or sales.
From Writing Product Descriptions to Landing Page Copy
You can now do it all using AI Tools.
But before we get into it.
Let me show you the Earning Potential of this Idea.
And share some Freelancing Gigs that you can start for making up to $10,000 Per month
Let's search: Amazon Product Listing Description on Fiverr
We can see a number of sellers making a killing from these Gigs.
Take for example deryano, he is easily making more than 10,000$ every month from his Product description gigs.
Let's check another copywriting Gig: Landing Page Sales Copy
Expert copywriters are charging 80$ for 250 words of Copy.
You can easily create these copies using AI Tools and charge around 30$ as a new freelancer.
To write a Landing Page Copy, head over to Writesonic –> Library –> Website Copy –> Landing Pages
Now check out this video that explains how to create a landing page in writesonic under 3 minutes.
Similarly, you can use Writesonic's Amazon Product description tool to write catchy product descriptions.
Check out this Example for a Demo Brand that sells Water Bottles.
And this is how it will appear on product pages of Amazon products of your clients.
Looks awesome, right?
Now the next AI Business Idea on our List is:
7. Kids Story E-book
Kids book sells like crazy.
Take a look at these ones on Amazon.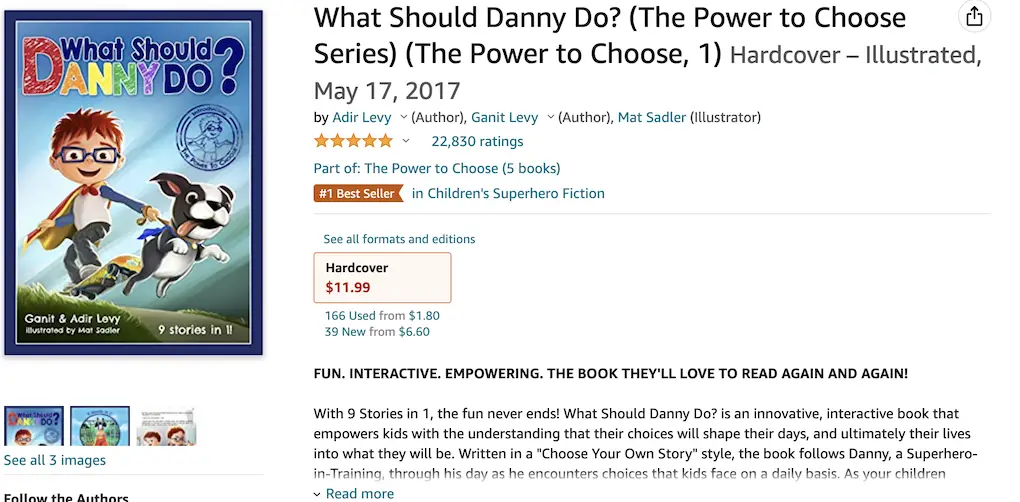 What If I tell you, you can create such kids story books using AI Tools
And sell it on Amazon and make profits.
Sounds Amazing?
Let's see how to go about it.
These are the Steps involved:
1. Decide a theme and age group for your story book.
2. Enter your prompt in chatGPT or ChatSonic
3. Create Book illustrations using MidJourney (AI Tool to draw images based on your prompts)
4. Create your Story book with the Text and Illustrations.
5. Design the book cover using Canva
6. Publish Book on Amazon KDP
7. Publish more story books.
8. Start collecting profits.
Let's try out this in ChatSonic (A Better ChatGPT Alternative from Writesonic)
Prompt: please write me a 1000 words children story about a mermaid and a little girl named olivia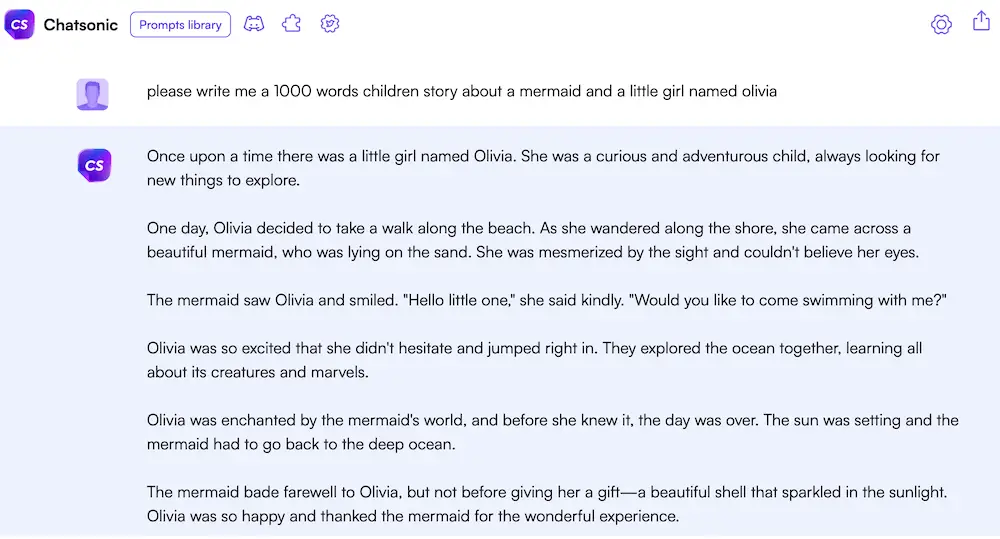 In under 30 seconds, we have a lovely children's story.
The 2 videos I share below go into more details about the complete process, which I highly recommend that you watch.
So friends these were 7 Best AI Business Ideas that you can start online with literally no-investment.